After COVID halted plans for Sparklight/Cable One to host C5 in spring 2020, we were excited to finally be in Phoenix, AZ for our C5 Fall 2022 Conference at Sparklight/Cable One HQ on November 9 & 10, 2022. We extend a big thanks to Julie Laulis (President and CE0, Cable One), Kim Gibson, (C5 Exec Chair, Senior Director of Customer Operations, Cable One) and the rest of team at Cable One for their efforts in hosting a fabulous C5 event.
The event was proudly supported by our new Gold Partner, Qualtrics (represented by Abhi Ingle and Pablo Talarico), and Silver Partner, Statflo (represented by Scott McArthur), along with guest speakers from Deloitte (represented by Wenny Katzenstein and Emily Werner who sponsored our Keynote Address. The program benefited from insightful contributions by our invited guests, including Ian Greenblatt of J.D. Power, and several representatives from Cable One's senior staff.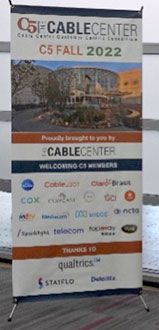 Over the two days, most C5 MSO companies were represented―Blue Ridge, Claro Brasil, Cox, GCI, MCTV, Mediacom, Sparklight, Telecom Argentina and Vyve Broadband, along with our three industry associations (CableLabs, CTAM, NCTA). We welcomed some new representatives, including Adam Ricklefs (Sparklight), Byron Floyd (Cox), Camilla Formica (The Cable Center), Gaston De Arriba (Telecom Argentina), Heather LoPresti (Blue Ridge), and Julia McElwee (Vyve). And, in recognition of their leadership and meritorious service to C5, and to facilitate their ongoing contributions, we conferred four former C5ers as C5 Emeriti: Gibbs Jones (ARCpoint Labs), Andrés Germán Piderit (Element Fleet Management), Rob Stoddard (Retired, NCTA), and Graham Tutton (InMoment).
Built around our C5 Inside-Outside Learning Model, the Conference Program was centered around the theme of "Performance Improvement". Agenda highlights included:
FIRESIDE CHAT with Mike Bowker and moderated by Kim Gibson (both of Sparklight/Cable One) on the on the impact of CX in today's marketplace;
KEYNOTE ADDRESS. Wenny Katzenstein and Emily Werner (Deloitte) presented insights on the importance of trust and how the Deloitte HX TrustID platform is used to measure/predict trust, and provide recommended actions for improvement;
"EGG-TIMER" BEST PRACTICE EXCHANGE. Nicole Wininger (Blue Ridge) and Martin Belogi (Telecom Argentina) chaired the two sessions taking place of the entire morning on Day 1. During this session, C5 MSOs shared best practice on their stories on their latest CX challenges and/or initiatives. Presentations were provided by Nicole Wininger (Blue Ridge), Byron Floyd (Cox), Maureen Moore (GCI), Katherine Gessner(MCTV), Adam Ricklefs (Sparklight), Gastron De Arriba (Telecom AR),and Julia McElwee (Vyve).
ASSOCIATION UPDATES. Mickie Calkins (Cablelabs), Mark Snow (CTAM), and Wyatt Barnett (NCTA) provided updates on their respective areas of technology, marketing, and legislation.
"SPOTLIGHT ON…SPARKLIGHT/CABLE ONE". Eric Lardy (Cable One) provided a brief history about Cable ONE's journey from a newspaper subsidiary (1986) to its rebranding of Sparklight (2019), and future expansion plans.
CX SOLUTIONS THROUGH TECHNOLOGY. A joint presentation by Abhi Ingle (Qualtrics-Gold Partner) and Gaston De Arriba (Telecom AR) on the use of research to understand customer satisfaction to better predict retention and loyalty, including performance outcomes on the Telecom AR/Qualtrics project;
CX SOLUTIONS THROUGH TECHNOLOGY. Scott McArthur (Statflo-Silver Partner) shared how targeted, one-to-one messaging can boost response rates and conversion rates while creating a positive CX
INSIGHTS FROM OUTSIDE THE INDUSTRY. Former C5er and C5 Exec Chair, Andrés Germán Piderit (Element) shared his learning journey in the evolution of CX and NPS in his new role as Head of Client Operations at Element;
INNOVATION SHOWCASE. Rodrigo Duclos (Claro Brasil) described how Claro created the mobile e-care app (My Claro), awarded "Best Design in Latin America" by Fast Company Innovation by Design Awards.
C5 2022 RESEARCH PROJECT. Senior Fellows, Chuck Patti and Maria van Dessel (The Cable Center) provided a summary on the key insights and takeaways of the six case histories focusing on "The Impact of Network Performance on CX". Suggestions for "next steps" were also proposed.
UPDATE FROM THE CABLE CENTER. Diane Christman (The Cable Center) shared the latest changes and efforts to advance the next phase of the Vision 2025 plan at The Cable Center.
Finally, the Senior Fellows would like to acknowledge the ongoing support from The Cable Center (Diane Christman, and Camilla Formica, The Cable Center), our C5 Executive Chairs (Eric Burton, Comcast, Jon Coscia, Mediacom, Suzanne Foy, Cox, Kim Gibson, Sparklight, and Simón Tadeo, Telecom AR), as well as all participants who helped make our fall conference another successful C5 learning journey.
The full agenda and other conference information is available in the C5 Fall 2022 Program Booklet .