Spotlight on Nicolás Ramos Maseras, Head of Finance, Discovery Networks, Argentina
Graduate of Intrapreneurship Academy, Class 6
How can a structured program empower a corporate innovator to catalyze the ideas of fellow disrupters without stifling creativity? Nico Ramos Maseras of Discovery Networks addressed this very question when he joined Class 6 of The Cable Center's Intrapreneurship Academy (IA).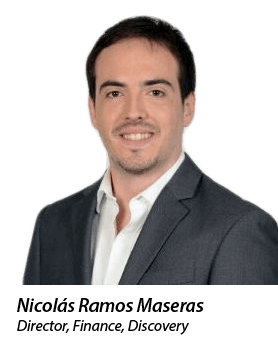 In the summer of 2019, Nico participated in IA's eight-week course and leveraged IA's applied learning model to advance a unique concept: a digital system designed to gather ideas and foster team innovation within his organization. This idea originated during Discovery's Brain School (an internal program to encourage innovative thinking), where Nico's colleague, María Jose "Majo" Pastore, presented it to the senior management team of which Nico was a part. Nico agreed to work on this project with Majo and bring it to IA as his innovation project.
Dubbed "Discovery Lab," they created an innovation platform through which employees submit creative ideas for consideration. It was important that their tool inspire and collect ideas, as well as efficiently filter them so senior leaders could regularly evaluate them. Discovery Lab also needed to offer a collaborative forum and a space where employees could expand on their ideas.
Throughout the duration of the IA course, Nico and Majo tackled all aspects of the Discovery Lab platform. They worked with their internal IT team to design the platform user interface and experience. They developed the workflow, forms, and processes for idea submission and approval. They also integrated the capability for senior management to offer their guidance on certain strategic priorities, stimulate feedback, and gain creative input.
IA provided Nico with the tools, skills, and insights to move the platform from inception to implementation.
"We believed this was a good idea, but there were so many unknowns. IA helped me figure out a process, identify the right people, and ask the right questions. I learned how to create a comprehensive business plan and how to prioritize the execution," said Nico. "It was helpful to get input on my project from fellow IA students, from other companies, and other parts of the value chain."
Discovery senior leadership is fully behind Discovery Lab, and a test launch in one of Latin America's regional offices is scheduled for March 2020. "If this works, Discovery's scale can allow us to expand it to other territories. We can make ideas fly across the globe," adds Nico.
Through IA's structured program, Nico and his team have invented a creative solution that encourages others to innovate. What could be more intrapreneurial than that?