Liberty Global's entrepreneurial energy has shaped its unique culture and incredible growth journey. Amy demonstrates innovation in action with five investments Liberty Global is making to nurture and sustain its innovation culture.
I joined Liberty Global as an intern when the internet was little more than theoretical. Over my 30-year career with one extremely innovative company, I've witnessed transformation unlike any other. We are now a world leader in converged broadband, video, and mobile communications services – connecting 85 million subscribers across Europe and the United Kingdom.
Today, as the company's Chief People Officer, culture is a critical part of my domain – more specifically, understanding how we can nurture and sustain a culture of innovation. Innovation is in our cultural DNA, but when size and time (and shareholder expectations) take hold, it can be easy to lose sight of your entrepreneurial spirit. The good news is, culture, like our industry, can be transformed. Here are five investments Liberty Global is making to sustain our culture of innovation.
01
Rethinking our talent pipeline
Building a powerful bench and investing in talent development is certainly not innovative thinking. What is novel, however, is the concept of "career." Monolithic career paths are morphing into a lattice of non-linear job opportunities, with employees seeking new skills and experiences. This evolution makes sense when you consider the pace of innovation. Many jobs we will see ten years from now haven't even been invented yet. Employees must continuously reinvent themselves to stay relevant in the future workforce, and employers must be equally innovative in their development processes and programs.
At Liberty Global, we have what we call a "talent ecosystem," which is a systematic approach to managing an internal marketplace of vacancies, rotational roles, top talent, and unique development offerings. We invest across the pipeline, from college graduates to emerging leaders. This includes a strong emphasis on global mobility and formalized job swap programs across our business portfolio. We've seen individuals enter the company through our graduate program, progress across various functions/regions, and ultimately be named to executive positions. This investment proves to be symbiotic in maintaining our culture of innovation. We invest in diverse career paths, and our people stay invested with us.
02
Supporting agile organizational models
Increasingly, we are seeing organizations deploy agile organizational models as a way of driving an innovative culture. Agile methodologies involve new principles and practices that are a radical alternative to hierarchical teams. This new way of working segments projects into several phases with teams working collaboratively and iteratively to reach a collective outcome. Agile team members are empowered to deliver, and leaders are focused on removing barriers to success. The benefits of agile work models are many, including increased innovation, collaboration across diverse teams, clear goals, and fast problem solving.
One size, of course, does not fit all. At Liberty Global, we customize organizational models by business and function. Increasingly, our fixed-mobile converged businesses in Europe are all employing some variation of agile work. Regardless of the approach, we emphasize common values such as agility and limitless thinking. This helps create a united, innovative culture across the entire business.
03
Accelerating our DE&I agenda
Few would deny the importance of having a diverse and inclusive organization. Companies with inclusive cultures and policies see up to 60% greater creativity, innovation, and openness than their less-inclusive counterparts. When you dive deeper into diversity strategies, however, you often find little effort happening below the surface. The fact is, most businesses (including Liberty Global) have a lot of work to do in this area. It starts with being consciously inclusive – being aware that our differences are what make a company stronger. Like career progression, diversity characteristics should be viewed holistically. Also remember that this is about two-way communications. You may be great at communicating about Diversity, Equity, and Inclusion (DE&I), but are you listening?
We have a diverse workforce at Liberty Global, but we are doubling down on our DE&I commitments. We have active involvement at all levels of the organization, from our CEO to grassroots employee resource groups. We are taking a data-driven approach to define actions, and track and measure our progress. We are focused on systemic changes to behaviors, decision making, and ways of working. And we are listening. We recently published our first in a series of docufilms where we amplified our own employees' stories of discrimination and microaggression. It was extremely powerful – and humbling – to hear their personal journeys. On the heels of the film's rollout, we launched a new kind of survey we call Vibe where people chose images that best described their feelings and thoughts about DE&I. It was such an engaging way of gathering data that will then inform the next actions we take to build an innovative culture.
04
Modernizing the employee experience
Workforce wellness and engagement efforts surfaced in the 1990s, but it took a pandemic to truly revolutionize the future of work. Employee expectations are changing, placing more value on flexibility, digitization, personalization, and wellbeing. Around the world, companies are grappling with how to preserve their cultures and identities that have been developed in the traditional face-to-face office setting, while retaining the flexibility remote working has brought forward. The importance of technology cannot be overstated. Failure to modernize the employee experience not only threatens retention and recruitment efforts, it also can stifle innovation.
At Liberty Global, we value the flexibility and collaboration benefits of a hybrid working model. CONNECTION is our calling card, and never has connection been more important. We invested heavily in collaboration tools like Microsoft 365, and are taking a broad look at technology platforms across all our work/life touchpoints. This includes product ideation tools that allow virtual, cross-functional input; Workday and LinkedIn learning for real-time development opportunities; free access to the Calm app for on-demand wellness resources, and customization of online benefit tools to personalize and simplify administrative interactions. Beyond technology investments, we've hired full-time headcount dedicated to culture, engagement, and employee communications. These teams prioritize our people as much as a sales team prioritizes the customer. I'm excited to see what the future holds in this space – and where we can be innovative across the board.
05
Serving the greater good
Growth, in solidarity, is no longer an adequate measure of success. Growth, with impact, is what matters – especially to employees. Research from Nielsen found that 67% of people prefer to work for socially-inclined companies. Insights shared by Harvard Business School report that 90% of employees who work at companies with a strong sense of purpose say they're more inspired, motivated, and loyal. Further explored in Forbes, Corporate and Social Responsibility efforts are found to create significant value, increase innovation, and benefit the bottom line.
Our employees take immense pride in serving the greater good. These efforts, in turn, prompt creative solutions to real-world challenges. For example, in the UK, our Virgin Media 02 business is tackling data poverty in mobile networks to find a long-term solution to digital inequity. In Belgium, our Telenet venture is scaling up its basic internet program for vulnerable families that was initially launched in response to the pandemic. At COP26, we announced, in partnership with Formula E, a pollution monitor for schools to educate children about the importance of air quality – showcasing that connectivity and innovative technologies are paving the way to a more sustainable future. Tomorrow's employees will increasingly seek purpose, and we are extremely proud of the contributions they're making on our behalf.
Tomorrow's Success
Just like our industry, traditional thinking on culture, careers, and work is transforming. Tomorrow's success will not simply be delivering the next Gig speed. Rather, it will require leaning into your key differentiator – your people – attracting the best talent, building the most effective teams, and fostering a truly inclusive, innovative culture that promotes diversity and opportunity. By the way, this is extremely complex. And just when you think you've figured it out…it's time to reinvent yourself.
Best of luck in your never-ending transformation.
This article was originally published in The Cable Center's 2022 First Annual Intrapreneurship & Innovation Report.
---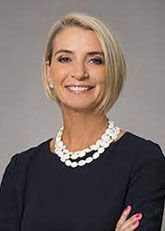 Amy Blair
Senior Vice President & Chief People Officer
Liberty Global
Amy Blair is responsible for leading the company's HR function, including its global People Strategy. A member of the Executive Leadership team, she oversees critical global people, transformation, and change activities.
Amy is passionate about intrapreneurship and has a rich legacy of engagement with The Cable Center, serving on its Board of Directors.