Navigating changes in workforce distribution is one of the biggest challenges organizations face today. Intrapreneurship Academy, in partnership with C2HR, gathered insights of connectivity industry HR professionals to understand the dynamics that impact employee engagement in a post-pandemic, hybrid environment.
Hybrid is here to stay.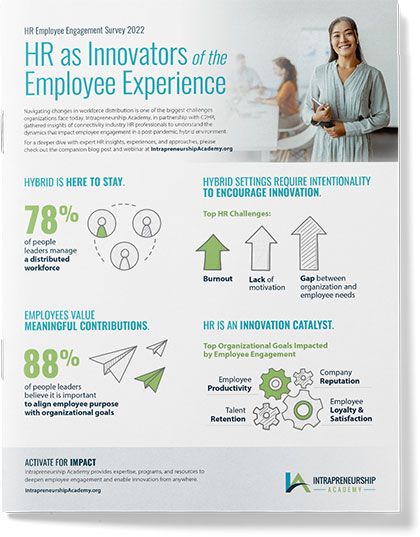 DOWNLOAD INFOGRAPHIC An overwhelming majority of people leaders manage a hybrid workforce, adding a layer of complexity to their organization. With no set model for hybrid environments, HR is challenged to define the future workplace that connects all the pieces, while simultaneously shifting gears and timelines to adapt to external forces:
78% of people leaders manage a distributed workforce;
19% have functions that will never return to office; and
19% lack visibility into their organizations' plans.
HR leaders are concerned about their organization's ability to be effective in times of uncertainty, ranking "increased success in navigating change" as a priority for continual learning and development. The good news is that leadership agility can be honed and practiced, developing leaders with capacity to make decisions with incomplete or ambiguous information, adapt to change, and turn unplanned change into unexpected opportunity.
Hybrid settings require intentionality to encourage innovation.
HR influencers in functions from Learning & Development to Performance Management acknowledge a lack of connection, collaboration, and cohesive culture that enable teams and individuals to perform at their best. Employee stress levels are at an all-time high. Management is fatigued. Unclear expectations and ambiguity around remote work policies negatively impact the employee experience. People leaders are managing to a post-pandemic burnout that comes at the expense of driving maximum innovation and intrapreneurship within their teams.
Top HR Challenges: Burnout, lack of motivation, and gap between organization and employee needs
People leaders must balance executives' expectations for a full return to office and teams' desires for flexibility and control. This perceived gap presents a prime opportunity to encourage innovation by creating environments where employees thrive. HR must pay attention to how employees feel, and what they believe they need to be successful. When organizations cultivate empathy in the workplace, they gain a better understanding of their employees to inspire productivity and maintain engagement.
Employees value meaningful contributions.
HR feels the pressure to remain competitive with industry peers when it comes to salaries, benefits packages, and career advancement opportunities. While important, they're not enough to ensure the modern worker will stay long-term.
88% of people leaders believe it is important to align employee purpose with organizational goals; and
100% of people leaders believe employee engagement is a driver of business growth.
What deepens employee engagement is the opportunity to advance meaningful projects aligned to their values, coupled with tools, training, and processes to be successful. They find purpose and satisfaction in solving organizational challenges, driving change, and navigating workplace dynamics. A company that invests in intrapreneurial leaders sees increased productivity and higher levels of employee engagement that enable corporate innovation.
HR is an innovation catalyst.
Employee engagement is a top HR concern for good reason: it has a direct, lasting impact on an organization's success and capacity to remain competitive in a fast-paced industry.
Top Organizational Goals Impacted by Employee Engagement: Employee Productivity, Company Reputation, Talent Retention, Employee Loyalty & Satisfaction
This is HR's moment to think innovatively about building engagement and collaboration among in-office and remote teams. Intentional collaboration and inclusion help build trust and create a safe space for ideas to flow, sparking innovation from anywhere.
Intrapreneurship Academy: Leadership and innovation training for tomorrow's trailblazers.
Intrapreneurs are confident leaders with the determination to innovate and impact change at work. Corporate leaders who think like business owners are key assets because they have their eye on the things that matter most to modern organizations–from new technologies to diversity, from fresh trails to blaze to the most cutting-edge ways to lead.
Intrapreneurship Academy is a series of extensive leadership and innovation courses for connectivity industry standouts. Coursework complements thought leadership programming and an unmatched educational content library, ensuring the training and mentorship leaders receive provides a foundation for building forward-thinking problem solvers.
Driving Innovation: Intrapreneurship expert Dr. Simone Ahuja equips high performers with the frameworks and mindset to drive continuous improvement and innovation.
Leading With Agility: Agility expert Dr. Pamela Meyer empowers current and developing high performers to adapt, innovate, and thrive by demonstrating agility in times of ongoing change.
Leading With Agility: Executive Intensive: Dr. Pamela Meyer prepares executives to create a culture of agility in their organizations.
Intrapreneurial Leadership: Expert negotiator Susie Tomenchok helps rising leaders get the skills to move into the next levels of management through effective, confident leadership.
About The HR Employee Engagement Survey 2022
Intrapreneurship Academy cultivates the new connectivity workforce, teaching them to innovate from inside their organizations. Intrapreneurship Academy enables companies to drive business growth by channeling the entrepreneurial drive of their greatest source of inspiration–their people. Our programs, expertise, and opportunity instill the leadership of our industry's original innovators to empower a new generation of bold thinkers. To learn more about the return on intrapreneurship, visit www.intrapreneurshipacademy.org.
With a focus on business impact, Content & Connectivity Human Resources (C2HR) serves a diverse and vibrant community of HR professionals in the technology, media, and entertainment industry. C2HR provides relevant insight, industry-specific analytics, and a dynamic forum for learning and networking for its 4,500 members from 50 companies. Its groundbreaking initiatives include the Annual C2HR Compensation Surveys and C2HR CON. For more information, visit C2HR.org.