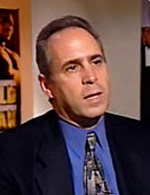 Interview Date: Thursday May 15, 2003
Interview Location: New York, NY
Interviewer: Tom Umstead
Collection: Hauser Collection
UMSTEAD: My name is Tom Umstead from The Cable Center and we're here talking to Ross Greenburg, president of HBO Sports, talking a little bit about HBO's past, present and future in the sports realm. Mr. Greenburg, HBO has become over the years the most recognizable brand in the cable industry, and that's been based on original programming from The Sopranos to Sex and the City, but before there was any of those things there was HBO Sports, and that was sort of the heart and soul of HBO. You started at HBO in 1978. When you started there did you ever consider that HBO would become such a powerful force in the sports industry?
GREENBURG: It's funny because when I started at HBO in 1978, we did many, many sports events all over the country. We were about 500,000 subscribers at the time in all 50 states, but when I traveled to the different states and I'd say who we were working for as we were doing these athletic events, I would always get a quizzical look when I would say HBO. It just didn't have the name recognition that it has today, and in those days – I remember my father, when I first got the job, he said, "Oh, cable. That's a good place to be. There's a future there." All I knew is that I was getting involved in sports television and I landed a job as a production assistant. So, I really didn't envision this kind of growth and powerful kind of dominance in television, but what I did know is that it was something special, that it had a philosophy that was a little bit different than the networks at the time. And in those days, the three networks were the powerful kings of television and to break through you had to be dynamic. But HBO had this non-commercial format and it had this bravado and this unique way of telling stories on television. In those days, the bulk of it was sports, but I knew there was a seeping in of live concerts and comedy presentations and films right out of the theater and I knew that people were hooking on to the network early, even in those days, and I knew that one day it would be a force.
UMSTEAD: Sort of take us back there… you started at ABC, and again, there was really, as you mentioned, nothing out there on the cable end that compared to what the broadcast networks were. Did you take all of your experience at ABC and bring it over to HBO, and how did you infuse that into what you did over there?
GREENBURG: I was at ABC during the Roone Arledge era in the mid-70s, and at that time ABC Sports really dominated the entire world, and he set up a philosophy there of telling it like it is, story-telling, getting inside the game, not just covering between the white lines, hiring very prolific talent that spoke their minds, and basically journalistically went right for the jugular. So, that's how I was taught. I was getting a master's degree in sports television. So when I came over to HBO in 1978, that's how I knew to present sports, that's the blueprint I had, and I was a production assistant but there were only two of us. A gentleman named Tim Braine was the executive producer at the time, and I was the first hire in production. So, the two of us kind of set out to do a vast array of sports, whether it be boxing, which we had done for a few years but started to see a growth pattern there, and we were doing college basketball, we were doing gymnastics, figure skating, every type of sport you can think of, but I was taking the philosophy from ABC Sports and bringing it to HBO even then in my own small way, and I was producing within a year because at the age of 24 there was no one else to produce all this product. So I had the opportunities that I wouldn't have had at ABC and I just followed the lead and set out to present sports differently.
UMSTEAD: Now, a lot of people don't realize this, but in the early '70s HBO actually carried NBA games, NHL games, they were really into developing these sports programming. When did HBO realize that it would be boxing and the sort of documentary area where they would have their greatest strength?
GREENBURG: What happened was in the early '70s – and this is very important – a man named Marty Glickman, who was here with Jerry Levin and Chuck Dolan as they started up HBO, they decided that they could get a marketplace together for professional sports on HBO because at the time the national packages were a little helter skelter for the NHL and the NBA, so Marty used to travel around. He went up to his friend, Red Auerbach, up in Boston and says, "Hey, Red, I can give you a little more money if you want to broadcast some of your Celtic games on HBO." So he would go to individual owners and package games through them, rather than going directly to the league. At the time, there weren't any safeguards for the league to protect the league from that kind of a sale, so HBO would get this influx of professional sports at the time. Actually, HBO broadcast the last playoff series of the ABA, which is a little known fact. The ABA had a healthy menu of games on HBO as well, so in the mid-70s, when HBO was launched, it became this feeding ground for trial and error. In those days, boxing was primarily a closed circuit event, but that same Marty Glickman and Jerry Levin would go to a Don King or Bob Arum and say, "Hey, how'd you guys like to test out this new little world we have called HBO? We'll take your closed circuit signal and send it to the homes that we have on HBO around the country. We're very small so we're not going to impact your closed circuit sales as people go to arenas, but here's some extra money," I think to the tune of 30-40 grand to get something like Ali/Frazier or Ali/Foreman into HBO homes, and lo and behold King bought it, bought into the project and we were starting to do our boxing coverage. But that was the seed of boxing at this company. What happened in the later '70s, when I got there in '78, was that Michael Fuchs and Jerry Levin started to realize that we could claim some ownership in this sport. This was the one sport that you could do as one offs, and if you could plug into the sport and take some premiere primetime events away from the networks – ABC and CBS were very strong in those days in covering primetime boxing – but if you could start to pick and choose some fights and spend some money aggressively, that you could start to generate stars. So that the Gerry Cooneys, the early days of Sugar Ray Leonard in his pro career, Larry Holmes, and others started to migrate to HBO in the late '70s, and in 1979 the Holmes versus Weaver fight in Madison Square Garden marked the first major heavyweight championship fight that actually was veered into our lap at HBO. Red Smith, the famed columnist, the next day wrote about the fact that HBO was broadcasting that heavyweight championship fight and took it away from ABC. So that was the real beginnings of notice here in New York. Two years later I found myself in the truck for Leonard/Hearns, and this was the first major event for HBO Sports, which we were in control of the entire event from a television perspective because the worldwide audience was getting our feed, and at that time, Michael Fuchs, then the chairman, walked into the truck afterwards and he folded his arms and he said, "Gentlemen, we have arrived." And I knew exactly what he meant. It was a statement that this was our sport now and we were going to try and create a dominance in the sport, much the way that Roone had his dominance in football and the Olympics and Wide World of Sports in the '70s. So we honed in on boxing.
UMSTEAD: Now, you talk about boxing… at the time it was on broadcast, but eventually broadcasters got out of it because boxing, for better or worse, developed this stigma about it. Over the years, HBO has been able to sort of stay above the fray and maintain its integrity while the boxing industry has gone up and down. Now, you seem to be a very mild-mannered man. How do you deal day in, day out with the characters in the boxing industry?
GREENBURG: Well, the characters in the boxing industry go back to Tex Rickard at the turn of the century. So the reality is that boxing will never change. The cast of characters will change names but it draws the entrepreneurs and the money hungry maniacs into it, and that's just a fact of life. I think over the years we've been able to professionally handle this sport, conduct business the right way, and really create big events for television and kind of stay above the fray. In many ways, on the broadcast if we see wrong we'll talk about it. In the back rooms and the board rooms when we're having our meetings, if we see something going in a peculiar direction, we'll confront those promoters and managers head on, and I think just there's a certain responsibility that comes with HBO boxing and to carry on that legacy you have to stay on the straight and narrow, so that's always been our kind of way of doing business here. So Don King, Bob Arum, the Duvas, they all respect the fact that they can maneuver in a certain way outside of these walls, but once they come into our building and conduct business with us, they'd better be right on course and stay within the white lines, and that's how we've been able to maneuver our way through the crazy world of boxing. The funny thing about the networks is that they chose the wrong time to get out because the '80s were probably the greatest decade in boxing history. You had Sugar Ray Leonard, Duran, Hagler and Hearns fighting in their many memorable fights, and you had the emergence of Mike Tyson, you had a very strong Larry Holmes at the time, you had Arguello and Pryor and Chavez and Taylor – you just had a lot of great talent in the '80s. It's a time where we were kind of putting our stamp on the sport. Technologically doing a lot of things production wise behind the scenes to create a different viewing experience for the sport, whether it's overhead cameras, microphones in the corners, Spanish translations – we were just coming up with a lot of different innovative ways to make the broadcast feel like you were sitting ringside, and then on top of that had this dynamite programming with these powerful names and more tension in the sport than ever. So we kind of used the '80s as our launching pad, and then the '90s and now into 2003 era we're hoping to just carry the ball and see cyclically the sport come back because we've lost quite a few of the major stars in bulk. We have our Oscar De La Hoyas, Lennox Lewises, Roy Jones, but we don't have this feeding frenzy of great talent that create massive events that we had in the '80s.
UMSTEAD: What was the most difficult negotiation that you had to go through in terms of developing a fight? I'm assuming it might have been Lewis-Tyson because you had to deal with Showtime as well.
GREENBURG: There were a couple that come to mind. In the mid-80s Seth Abraham and Don King jointly had the idea that we would create a world heavyweight series in which we would unify the world heavyweight title. At that time there were three heavyweight champions and Mike Tyson was this emerging star in the making, and so we developed this series and injected Tyson into it, and subsequently most of the champions were afraid of that Tyson character, didn't necessarily want to step in the ring so we had to create this series and would have these long day and night meetings for many, many months to try to make sure that all the sanctioning organizations and all the promoters and all the fighters were actually going to stay in this series. Ultimately Michael Spinks wandered out of the series at the very end having been stripped of his title, but he was still the people's champion having beaten Larry Holmes so in the end after our series was over and Tyson had all three belts wrapped around him, then he had to go fight Michael Spinks in a closed circuit event at the time to kind of really wrap the heavyweight championship around him. But that was the most difficult until Lennox Lewis came in my office one day and said, "You know, I really want to make this Mike Tyson fight." And Mike Tyson had been, once he was out of prison, for years fighting on Showtime and had a long-term deal with Showtime. So it was the first time that the two networks had to deal with each other, and had to try and figure out a way to create Lewis-Tyson. It was a very difficult negotiation – a lot of details, a lot of concessions on both sides, and a very difficult negotiation to get done. And so that one… certainly I was more involved in that than the heavyweight series even though I was involved in that, but that one will go down as the toughest negotiation in HBO history.
UMSTEAD: And actually that negotiation, if I understand it correctly, still has a second fight on it. Are we going to see that anytime soon?
GREENBURG: I don't know. I mean, you know what? This is an historic piece of videotape. Hopefully at some point in time either that fight will have happened or many other memorable fights will take its place, but you can never predict in this sport.
UMSTEAD: Outside of boxing HBO also made a name through the acquisition of the Wimbledon Tennis Tournament. Talk a little bit about that and how important that was to set HBO up back in the '80s.
GREENBURG: Yeah, great story, and very, very, very monumental story for all of cable television. Marty Glickman, again – his name comes up all the time – he was a very experienced, well-known New York broadcaster, never got any credit for being a negotiator, but in fact, in the very early days of HBO Marty was kind of given the go ahead by Jerry Levin to kind of get some sports properties. So, Marty Glickman wandered over to England because he had this idea. He said, "You know, all the networks do is cover the weekends. They cover Saturday and Sunday of Wimbledon. What if we tried for HBO to get the mid-week, early round coverage of this tennis tournament?" Now, everyone now today looks at sports and looks right to cable to cover all of the early week coverage of golf tournaments, tennis tournaments, every major tournament you can think of, the early rounds of the NCAAs in basketball, but I am telling you that this negotiation between Marty Glickman representing HBO and the All England Club in Wimbledon was the first time that any company had ever gone for any early round coverage of any athletic event that didn't happen to be on a Saturday or Sunday. So when he made that deal and all of the sudden we were going Monday through Friday five days a week with early round coverage of Wimbledon it was a monumental deal that changed the face of sports and television as we know it today. I was lucky enough to do 21 Wimbledon championships at HBO, to go over there and produce, and I will tell you there is something about that event that's special. I've been to all the major sporting events the world over, but the feeling of stepping on those hallowed grounds at the All England Club, and I hope we transferred that to the American public through our coverage for all those years, was something very special, and I cried like a baby the last year of our coverage. The entire tournament I was just crying knowing I would have to go back as a spectator. It's a tournament that none of us will ever forget being associated with, and it's a very special place.
UMSTEAD: With HBO being so strong in the sports business with its history of Wimbledon, with its history of boxing, why haven't we seen the network sort of go after some of the major sports packages, say it's an NBA package, or an NHL package? Is there a reason why that hasn't happened?
GREENBURG: Yeah, I think the reality is we've had to carve out different niches in the sports television environment, whether it be a sports magazine show like Real Sports, On the Record with Bob Costas, our wonderful list of historic documentaries that we've done for 20 years. We realize that we can't pay 500-600 million dollars a year to bring our subscribers NFL football, or NHL, or NBA basketball, major league baseball packages because frankly we don't have advertising and there's no way for us to make that money back, and as our subscribers plunk down their fee every month for their Sopranos and Sex and the City, and our healthy menu of sports specials and what not and all those movies, the fact is that our company cannot bear the brunt of hundreds of millions of dollars in sports rights. It just doesn't have any justification. So we had to look for different ways to take our sports menu and kind of penetrate the American mind and we've done that through those wonderful lists of documentaries and Bob Costas and Bryant Gumbel's Real Sports in order to kind of sociologically look at our country through the eyes of sports, and I think it's worked. I don't think anyone on the dial can measure up to the kind of work that we've done in all of those areas across the board in just telling stories.
UMSTEAD: You mentioned the documentaries and the impact it's had both on society and how it looks at society. What drives you to develop an O.J. Simpson series or an Arthur Ashe show which has such implications within society? A lot of people sort of walk away from that because they're afraid to touch certain issues, but you've dealt with race relations, you've dealt with women in sports. What drives you to develop that?
GREENBURG: I think for me it's really my upbringing in the '60s, always curiously looking at the other side of the world because we were all taught to, for the first time, question the Vietnam War or racial injustice, social equality. So I think, at the core, we have to realize who we are as people and then look for the stories in American history in sports that can penetrate that wall and bring it down, and that all goes back also to the philosophy of HBO from the very beginning, when I got here in 1978, and that was to be different. You could in those days, and still today, go across the television dial and see the same old stuff. Today's reality television was yesterday's soap opera at night. That kind of television is fine for people that want to sit back and waste their minds away, but here at HBO we want to kind of go a little deeper. We don't have any commercial sponsorship over our shoulder looking at everything we do and we realize that there's a truth in America that isn't always translated on television, and we're going to do it. And so when we go after significant social stories, whether it's O.J. Simpson, the early days of baseball in When It Was A Game, the story of the American Basketball Association, the beginnings of the AFL, Joe DiMaggio, we're going to tell each individual story as it happened, checking our facts, making sure we're dead on in our portrayal of that person or that event, and rekindle the memories of the American public like we did with the '80 hockey team in Do You Believe in Miracles. So, there are so many moments in sports that transcended the actual event on the field. The Soviet-U.S. hockey game in 1980 was not about two hockey teams on the ice playing one another. It was about an insecure America at the time who looked at the Soviet Union for 20 years as their hated enemy and finally had a game to symbolize the struggle that was going on in the late '70s and into 1980 here at home, and could use that game and that team as a metaphor for making a statement that we're okay, we're going to win, and then we're going to proceed into the next 20 years as a powerhouse again. And that, I mean, if you can tell those kinds of stories you're going to bring people to tears, they're going to get emotional as they watch the television show and it's going to be powerful. That's what we've been trying to do since I've been here in 1978, and HBO, time and again, makes you remember the kind of programming that we put on the air, and I don't think any other network can say that.
UMSTEAD: No, very few can. Was there one documentary in particular that touched you, that got you emotionally?
GREENBURG: Well, I'll be at screenings for all of our documentaries and I'll be crying like a baby having seen the documentary ten times. They all kind of emotionally get to me.
UMSTEAD: Was there one that was difficult for you to produce?
GREENBURG: Yeah, the most difficult one for me to produce was Arthur Ashe because he was a very close friend and was an analyst on Wimbledon for twelve years and we were golfing buddies and very, very close friends. I felt the weight of trying to put together a program with Julie Anderson, who was the producer at the time, that really would portray Arthur Ashe, the man, and that one was difficult. I spent a lot of time crying in the makings of that film because that was my buddy, and he was such a powerful figure – so dynamic and such a great crusader for what was wrong in this world, and he did it in such a peaceful, quiet way in the system that I think his legacy will live on forever, and no, he's not Reverend Martin Luther King, but boy, he must be as close as you can get to that. So, when you're going after the story of a friend who happens to be that important of a figure, you feel the burden of telling that story. The other most emotional moment was in the makings of When It Was a Game, I remember in the first show that we did, because that was very much a mind blowing experience because for the first time, in 1990, I think we realized how to put together a sports documentary and we were influenced by some great documentary filmmakers in the '70s and '80s, but I think that's where we developed our style. You know, in the old days, in the '80s, we would do documentaries and we'd just throw some interviews against a wall with some footage and intercut it, and in those days no one took sports very seriously, including sports television, and so there was no real depth to what we were doing, and for the first time in the making of that film we knew we had something special and we had taken 6 to 8 months to figure out how we wanted to shape it. We had all this wonderful color home movie footage of major league baseball in the '30s, '40s and '50s, but we really needed to shape the documentary. I remember being in the final mix and all of us were basically crying because we had this beautiful music wrapped around this great storytelling, and I said to the three producers with me, George Roy, Steve Stern and Dave Harmon, I said, "Gentlemen, you will never, ever have a moment like this in making a documentary for the rest of your life." I said that not knowing how the public was going to perceive When It Was a Game. It became a tremendous success and I think it spawned a whole generation of documentary filmmaking out of HBO Sports, which 50 years from now, when everyone has our collection of documentaries, they're going to say, "Wow! These guys were spectacular." We pick the right subjects time and again, and we tell the story as no one has done before us. We know it because everyone tells us that, but we do it for ourselves and for many of the subjects and the relatives of the subjects that participate in the telling of the story. Some of the greatest moments we have is when we're at these huge screenings and all the participants and those that have been involved in the story are sitting there and we're able to present it for them, and it's not just about… we know that it's going to translate from those people because of the passion we have to the rest of the American public as they watch it on HBO later. It's been a special experience.
UMSTEAD: You mentioned Arthur Ashe and a number of other major sports figures who have come on HBO and worked as part of the network. How are you able to draw an Arthur Ashe or a Bob Costas or Bryant Gumbel, who basically have stayed on the broadcast side, to cable? How is it HBO has been able to do that?
GREENBURG: It's been mystifying. I mean in the early days if you had told me in 1978 that our roster of talent would include names like Frank Deford, Armand Keteyian, Bryant Gumbel, Bob Costas, George Foreman, I would have laughed, but the fact is that over many years what happened was talent gets drawn to great work, and so I think time and time again, and Costas is probably the best example, we would have numerous, numerous phone calls between each other from the mid-80s on comparing notes, looking at the different product. He would call me when he would see something outstanding on HBO. I would call him when I'd see his work in the NFL or the Olympic Games, later on in the '90s, and we would basically applaud each other's great work, and I knew that Bob Costas was a perfect fit for HBO because of his intellect and his ability and skill as a broadcaster. He wasn't able to flourish, he was like Michael Jordan without having a basketball court or maybe Dan Marino without an offensive pass in his offensive scheme as a football player, and I felt that there were certain things that we could bring to the table for Bob Costas to kind of utilize all of his talent, and put a show together around his skill as a broadcaster that would draw him to HBO, and in fact that's what happened with On the Record. The timing was right. And I think Bryant Gumbel – he told us early on when I had lunch with him about the fact that we were doing this sports magazine show, and he was out of sports for over a decade at The Today Show at NBC at the time, and had no care or will to do any kind of a sports show, but he trusted HBO Sports with this product, and he knew that we would develop the first sports magazine show that would get it right, that would actually be a sister to a 60 Minutes in news, and there's a certain faith because he knew the kind of product that we were churning out here, that we could develop that show, and he signed on saying this is the only sports show and the only network I would affiliate myself to, other than my other work in news. So that is why you get that kind of talent. I remember going down to Houston and sitting with George Foreman prior to the Holyfield fight, and I sat with him in his office – and took the trip down there – and I said, "George, I don't care if you win this fight or lose it, I think you're going to be a great broadcaster, and I think you have all the tools – the candor, the sense of humor, the understanding of boxing – to be a great broadcaster." And I appealed to that. He must have seen the quality of the HBO product, even though he wasn't a big watcher of sports television, and boxing in particular, when he was ten years a preacher in Houston, but he knew enough about HBO's product when he came back that he knew what we'd done right and he'd get the freedom to express himself on the air that he coveted. So, it was an easy conversation and I was always very confident that he'd come on board, and he did. He decided to come on board before he fought the Holyfield fight, lost the 12 rounds, but in glorious fashion, and has been a broadcaster here ever since. So, I think it's the ability to really intellectualize and to make smart television that attracts all this wonderful talent. These are the greatest minds in one place talking sports, maybe since the days of Roone Arledge, in the history of the business. He was a great eye for talent, Roone Arledge, and he understood that if he could marry his philosophy of sports television with the right talent to kind of be his communicators, whether it's Howard Cosell or Jim McKay, Frank Gifford, that he could put out a great product, and I think HBO Sports mirrors that philosophy in the '80s, '90s, and now into this century – that if you have the kind of intellectual product that is Real Sports or On the Record, or documentaries, or the way we cover boxing, that we can attract the best talent to communicate that philosophy.
UMSTEAD: We've talked a lot about HBO's triumphs, but there have been a few missteps along the way. Arliss, for example, although it did very well was cancelled last year. KO Nation, which was a start-up afternoon boxing show didn't perform as well, and I guess a couple weeks ago we learned that Hard Knocks was going to be set aside for at least a year, or put on hiatus. When projects don't work the way that you would like them to, do you take that personally?
GREENBURG: No. Television is about risk. You never know what's going to be a big hit down the road. You have to kind of hope and feel that it's going to work. It's fingertip kind of decision making. KO Nation, a boxing show that was going to appeal to younger audiences, in hindsight, would have never worked because it would be like a bunch of grown men putting together a kids' show, but never really getting it. A sports event is a sports event. You don't create sports events for a new generation just by merely dressing it up. You're better off putting on broadcasts of skateboarding and "X" generation kinds of athletic events then to try to dress up boxing into an "X" generation sporting event. So we learn from our mistakes, and the key to any success is to learn from mistakes and not commit them again. God, you make a lot of mistakes in television because it's a catch as catch can medium. I mean, you're really trying to appeal to the American audience and every step of the way you're going to make little mistakes. You may make a little mistake on an individual program, you know, a documentary that you might not have dug deep enough. I can think of… in the Bill Russell documentary we didn't dig deep enough into his private life so that we didn't really get the benefits of the full story, and in retrospect that documentary could have been 20% better. You look back at individual fights – I remember walking out of the truck and just thinking of the mistakes we made.
UMSTEAD: Such as?
GREENBURG: Well, it's hard… whether it be a bad graphic on a Leonard/Hearns fight or not interviewing someone that we should have interviewed during the fight because of the stoppage that was suspect, or… nothing that really hits home in a big way, but there have been a lot of instances over many, many years that you're second guessing the decision you made, and I think that you just have to kind of learn and just march on.
UMSTEAD: Were you ever in a position where you were very concerned about your wellbeing or the wellbeing of your staffers, whether it be a live event or taping something?
GREENBURG: Yeah, I mean when Fan Man hit the ring in Holyfield/Bowe and we knew we had hundreds and hundreds of pounds of electrical equipment and lighting hanging over that ring, I was worried for everyone that worked for me that was ringside. I was in the truck. And when the riot broke out at Bowe/Golota in Madison Square Garden and we had all those people in the Garden working, I was very, very nervous about what was going on. So, I mean we've had some bizarre events over the years and they turned into news events, those two in particular, but yes, there was a real concern over our staff that was in harm's way. Boxing tends to have those kinds of events that once or twice a decade… and you just hope that you don't get caught up in it.
UMSTEAD: On a personal note, are you a big sports fan?
GREENBURG: Yeah, see, I think it all goes back to growing up as a little kid I used to sit about this far from the television set and watch everything, and I was taken by ABC Sports in those days because I was the kind of kid that would in a Super Bowl… I remember I went actually to Super Bowl III, Namath's huge victory, and I was a huge New York Jets fan and Joe Willie Namath was my hero, and I remember crying like a baby and I remember many times at the Olympics – I wasn't at the Olympics – but watching the coverage on ABC, if Billy Mills was winning at the tape or Toomey was running in the dark of Mexico City and winning the decathlon and you're hearing Jim McKay's voice build the drama, I remember tears welling up in my eyes. I was that kind of passionate viewer. I think I got some sensitivity from my mom for the human spirit, and here was sports being captured that way. So, now I think that's the motto here – "Make'em laugh, make'em cry, make'em think" because you can use television as a medium to kind of draw out emotion in people, and that comes from my experience as a little boy, and even today at age 48 doing the same. I mean, I still will watch a certain event whether it's the finals of a NCAA championship game and Jim Boeheim coming out from the sidelines, never having won it, with shots of his wife and kids in the stands and I'll get all misty eyed. My son will tease me, "Dad, are you crying again?" I just think that sports brings out some drama that other television can't. People work their whole lives for a moment, and when the moment comes in sports it's so powerful because you can't just look at the individual accomplishment, you have to kind of interject that this human being worked their whole lives, five hours a day in their individual sport, for the moment and there it is, and you see it. You don't see just the moment etched on their face, you see the work of a lifetime wrapped up in what they're doing. We had a prize fight a month ago, James Toney. James Toney had the rockiest road of a professional prize fighter I've ever seen. He battled his laziness, his weight and yet, here we were, he was fighting Jirov and he won, and he won in a way – in the 12th round – where he was putting everything into it, right from his heart, and I wrote him a letter the next day and I said, "When I saw you slumped on the canvas in ecstasy, I knew it wasn't about that one moment of beating Jirov in 12 rounds, it was about finally you had taken everything, all of your passion and you had kind of put it into that ring, and for once you were doing it for James Toney. All the work that you had put into this sport, you had never really filled your potential because you were lazy, and here you had finally been at peace with yourself and you had put all this hard work into this fight and you won. When you were sprawled on the canvas, that's what I was thinking of." And that's why I got welled up with tears because athletes are very passionate, wonderful people to follow, and at its height in professional sports you really can appreciate the wonder of it all.
UMSTEAD: I tend to agree with you, and while that passion has always remained in sports over the decades, in your opinion, has the sports business changed in the last twenty years, and is it a positive change or a negative change?
GREENBURG: You know what? I think the change is that the media tends to just follow the numbers. My son knows how much Roger Clemens makes in a year. I don't remember ever caring or knowing what Willie Mays made in an individual year, or Mickey Mantle. I still don't know what Mickey Mantle was making. The only reason I knew what Joe Willie was making is it became big news that he was signing a $400,000 contract for a four-year deal, which was the first time that I can remember as a kid that fact hitting the sports pages in a headline, but I think that the media now covers sports as a business as much as an athletic event, but when it's stripped of that coverage and it's on television as the athletic event and you can get into that little dreamland and not focus in on how much money a tight end or a running back or a quarterback is making, and you can look at it strictly as a sporting event, they can never strip away the passion of sports. They can never take away Michael Jordan's passion about putting a ball through a basket when it's all on the line, or a Dan Marino touchdown. They can never take that away, and so I think sports will always live on. I think that certain events, whether it's the Olympic Games or a huge heavyweight championship fight in our case, can be kind of chipped away at with this continuous obsession with how much money is being generated, but as you're watching it, when the moment is happening, when Tyson is getting knocked out by Lennox Lewis, you're not thinking, oh, and Lennox Lewis is making 33 million dollars, you're thinking, my God, Lennox Lewis is actually fulfilling his dream of stamping his legacy on the heavyweight division and knocking out Mike Tyson, the mighty Mike Tyson.
UMSTEAD: Interesting. What about technology? Obviously we're on the cusp of HDTV, there's video on demand, will that change the face of sports and how we view sports going forward?
GREENBURG: I think technology is always changing the face of sports television. I remember in the mid and late '70s, graphic generators were first coming around and all of the sudden we were able to pop up a lot of statistical information about what was happening on the field, and I remember at the time people were feeling a little bit of an overload that maybe it was taking away from the purity of the event on the field, and now the screen is cluttered with scores of other games and stuff happening from all over the world of sports in the lower third of the screen, so we've lost a little chunk of our screen to facts and figures, and actually diverting the attention of the sports fan away from the game on the field at times. You're not as focused. So if technology is going to get in the way of your focus of a sports event I'm not for it. I want the viewer to be focused, and the only innovations that you see from this company, this division, at HBO Sports, all the technological innovation is geared toward getting you a new perspective and focusing on the game. Howard Letterman is there as an unofficial judge to give you another thing to think about as you're watching a fight because here's a veteran judge giving you his analysis of the fight so that it's not a complete surprise, maybe, when the judges hand in their scorecards at the end of the fight. That's all meant to focus you in on the fight, not distract you from the fight. Punch stats are used on boxing for us to be the first statistical analysis to give you some representation of who's winning, maybe, in an individual fight, to focus on it. I don't care what's happening in the Boston-Detroit game in major league baseball when I'm watching a Lennox Lewis heavyweight championship fight on HBO. I guess if I'm a Yankee fan I might, but it just seems like, you know, maybe once in awhile you should do that, but it just seems like there are too many people out there just looking to put together technological innovations for the sake of being fresh and new and not really focusing on whether those innovations actually help the viewer hone in on the sport they're watching.
UMSTEAD: Well, is that because unlike you and I, the sports viewer today is not focusing on the sports? In other words, they need all those technical innovations to keep them interested, to keep them watching because there are so many other different things that they could be doing that sports is no longer the icon or what we used to do all the time, you sat in front of the TV and I sat in front of the TV, we watched the game for nine innings and didn't care what kind of stats were up there. It's not the same for this next generation. Is that necessary to keep them there?
GREENBURG: This generation is so used to flicking 400 channels, and their attention span is the attention span of a gnat, so what happens is they're not willing to sit, watch, and let the sport play out on the television set. They're jumping. And I think a lot of television broadcasters try to figure out ways to keep them there. You know what, if it's not worthy, if the sports event that you're watching is not worthy, if we're doing a documentary and I haven't hooked you in in the first five, ten minutes of that documentary, you're going to go, but quality will rule out. If it's a great athletic event, if it's a great documentary, if it's a great story on Real Sports, if it's a great interview by Bob Costas, they will stay. So don't search for technological innovations to make them stay, search for the quality of the product you're giving them to make them stay, and that's HBO as well. That's the overall HBO philosophy. Give them the quality product, they will come. My friend produced Field of Dreams. Give them that quality of product, they will come.
UMSTEAD: Fifty awards – 25 Emmys, numerous accolades throughout your career – is there anything you haven't done yet that you would like to do?
GREENBURG: Yeah, I mean… by the way, the awards, those awards on my shelf belong to the whole division because that's not about me, that's about the HBO Sports division, but I will tell you that I'm making movies now, I've used sports in a lot of different mediums to tell a lot of stories and touch a lot of lives. I guess the Olympic Games, to be able to kind of coordinate the beauty of the sixteen days of the Olympic Games would be something that I'd always wonder how I would do in that setting. I've had a little mini-microcosm of that covering Wimbledon for twenty-one years where you had six courts going simultaneously, but the Olympic Games seems to be the only thing that Roone did that I never did. (LAUGHTER) But that's the one sports event that I always wondered, how would I do?
UMSTEAD: And if you were able to perform or be in front of the camera in any particular sport, was there something… I know that you're an avid golfer, would you like to hit the tour?
GREENBURG: That would be fun. Golf would be fun to broadcast. I'm a real passionate football fan and baseball fan, too. I never really wanted to go in front. Actually, I shouldn't say I never wanted to go in front because I actually did an audition tape when I was in college. I was writing for the local sports reporter and did an audition tape that I still have that's very embarrassing and was the reason I went behind the camera. So I never really modeled myself a broadcaster. I marvel at the broadcasters that work for us. I'll continually say to a Costas or a Lampley or a Gumbel, "How do you do that?" because from the seed of an idea they will just go off for a minute of beautiful communication to a camera without a script, right off the top of their head, and it's magical when you see the performance. It's like a great musician or a great comedian or a great artist. I just don't have that talent. I can work from behind and make you better and set you up as a talent to do that, and draw on your passion.
UMSTEAD: Where do you see HBO, say five years from now, and in that aspect, the sports industry?
GREENBURG: Hmm, I think HBO, we've carved out a niche of who we are, so we understand who we are as a company, not just a sports division, so we have to stay the course. We have to give you innovative programming that you won't see anywhere else. That motto goes back to 1978 when I got here. It has to be on the cutting edge, it has to be truthful, and it has to be direct, and it's uncensored and it's pay television and there are no commercials, and so we're given this wonderful palette in the first place. So all of HBO's product and all of HBO's sports product will have to fit that mold, and then the key for us in sports is to keep coming up with new documentary ideas, new series ideas, whether it's the next generation of Hard Knocks, or Hard Knocks comes back, by the way. Whether it's new stories to tell on Real Sports, a new Bob Costas show as it evolves over the years, or some other show that we haven't thought of yet that will pop onto our calendar. You know, Legendary Nights, we looked at our thirty years of boxing history and a PA in a meeting had an idea of why don't we look back at our fights and put them in documentary form, and so then I set up twelve half-hours and we picked as a group our twelve most memorable fights and put together a string of documentaries, from the seed of an idea, we'd spawned a whole television series. That's what it's all about. You have to have the resources to do that and HBO seems to create the resources so we can create the product, entertain the viewer, and the money flows back in the monthly cable bill. That's been the trick for many years and that's not going to end.
UMSTEAD: Anything that I might have missed that you may want to add about HBO or sports television?
GREENBURG: Let me think… you know, I've been here so long I remember all the catch phrases of HBO: "Simply the Best", "It's Not TV, It's HBO", "There's Only One HBO". I think every time we develop a catch phrase, at times they can sound a little arrogant. They're not meant to be. They're meant to define who we are, and I've seen so many people come and go in twenty-five years in this building. It's the greatest group of people I've ever been involved with. There's an intelligence and a closeness in the organization that's really, actually, increased over the years. But when you think of names like Levin and Fuchs and Jeff Bewkes, who went up town recently, and now Chris Albrecht taking over, these are minds and leaders that changed the face of television, and just to know that I'm in a building that's evolved from whence it started, when I got here, with it's 500,000 subscribers and people wondering what those letters stood for, into this giant of a television company that creates the most powerful programming in the medium, I mean, I sit here and wonder and just look back and firmly understand why it all happened. There were people in the building that knew, at the core, how to make this work, and so as we look ahead fifty years I just hope that that same legacy sticks with this building and no one strips it, because it would be a great loss to the American public, frankly, if they didn't have a place to go, not just for entertainment, but a place to go for really thoughtful, important television. It would be sad. So, I've seen a lot of networks get chipped away at their core. I've even seen ABC Sports lose its luster and lose the foundation that Roone Arledge built, and that's sad. So I hope that at HBO Sports in thirty years when I'm long gone and all the people that work with me are long gone, still has that same philosophy that somehow, someway we're able to carry it through.
UMSTEAD: HBO Sports has developed a great following due to the power and the quality of their original programming and their original sports. Time will tell whether that will continue, but given what we've talked about with Mr. Greenburg, it looks like they have a great future in front of them. I'm Tom Umstead with The Cable Center.