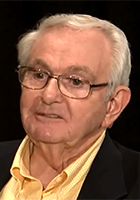 Interview Date: October 17, 2012
Interview Location: Orlando, FL USA
Interviewer: Lisa Backman
Collection: Hauser Collection
Wendell Woody, 80, died April 8, 2015 in North Kansas City, MO. He was born September 18, 1934 in Albany, MO to Emil & Dorothy (Lykins) Woody. Wendell was an Eagle Scout & Warrior in the Tribe of Mic-O-Say. He was President of the 1952 Albany High School Senior Class where he met his future wife Ruth Akers. During high school and college Wendell operated his own radio & TV repair shop and installed TV antennas. He graduated with a BS Degree in Business from the University of Colorado Boulder in 1958 while also serving in the Colorado National Guard. He began his career as General Manager at Electronic Parts Company in Denver, CO. During his subsequent 49-year career in the CATV industry he held sales, management & consulting positions with Jerrold Electronics, Catel, Antec, Sprint North Supply & Monroe Electronics.
Wendell is a past president and 11-year board member of the National Society of Cable Telecommunications Engineers (SCTE) and the founder of the SCTE Heart of America Chapter. He served for 18 years on the Board of Directors for the Missouri Cable TV Association and the Mid-America Cable TV Association. In 1994 Wendell was inducted into the distinguished Cable TV Pioneers group. He is the recipient of numerous industry awards including 1987 SCTE National Achievement Award, 1994 SCTE Member of the Year, & is a SCTE Circle of Eagles recipient. In 2001 he was inducted into the SCTE Hall of Fame and noted as an icon in the industry. In 2014 the Cable Center in Denver recognized Wendell as a cable industry stalwart. The SCTE Heart of America Chapter recently established a new award to be presented annually named the Wendell & Ruth Woody Founders Award.
Wendell was a member and former Deacon of Northminster Presbyterian Church.
Wendell is survived by his wife of 60 years, Ruth (Akers), sons Stuart (Brian) & David (Teri), grandchildren Beth & Ben, brother Fred (LaRu), brother in-laws Bobbie Allenbrand & Frank Akers (Elaine), sister in-law Mary Ann Lowary & many nephews & nieces. Wendell was preceded in death by his parents, brothers Verlyn & Gary, & sisters Lodema Allenbrand & Pearl Meyer.
Visitation will be held Friday, April 10th 5:00-7:00 pm at Northminster Presbyterian Church, 1441 NE Englewood Rd., Kansas City, MO 64118. Funeral service will be Saturday April 11th at 10:00 am at Northminster. Graveside services will be held Sunday, April 12th at 3:00 pm in Grandview Cemetery, Albany, MO.
In lieu of flowers the family suggests contributions to Northminster Presbyterian Church or the Heart of America SCTE Chapter – c/o Treasurer 13008 N Stark, Liberty MO 64068.
INTERVIEW
BACKMAN: Let's start with a little background information. You attended the University of Colorado in Boulder. What was your degree in?
WOODY: I graduated in 1958 from Boulder and I graduated out of the school of business and engineering. I did a combination there and I had the idea I was even going to go a little bit more advanced in education.
BACKMAN: What was your early career before you got involved in the cable industry?
WOODY: So my first employment that I took was down in Denver and I enrolled at the extension at that time. I only went one more semester after I graduated. I decided, you know, I got so involved in my new work that I was doing there that I just said "You know what. I have a degree now and I'm just going to stay in my industry that I enjoyed." I grew up in a small town in northern Missouri and my dad had [?] plumbing. He had an appliance business. When I got old enough to go work at the store, I didn't have any interest in the plumbing side of it but clear back in the thirties, he always had a little radio repair store in there. He didn't do anything himself; he always hired somebody to run that. So then when I got old enough to come to the store, I think I started working in the store about 9 years old, but I would come and work. Eventually then the person who was taking care of the repair corner left but I had been so active then of testing the tubes and kind of working on that stuff, my dad decided that he wouldn't have to hire anybody that I could just handle that. And so I did that all through high school and before I got out of high school the TV came along, everything was before TV at that time, and our first station was out of Kansas City so we were about 100 miles from there, so it was a deep perception, you know, along so let's just get it. It took antennas then had to be installed, so I got going pretty early installing antennas trying to get people a better picture out of some distance out there.
So after high school then, then I moved to Colorado and continued to do the same thing. I opened up a radio/TV store in Brush, Colorado. Brush is out in the northeastern part of the state. Got located there because I had some family out there. I ended up doing that. At that time there was no TV station when I first moved out there. That Channel 2 out of Denver was the first to come along. So I even brought the equipment back from the east in order to have the proper antennas and stuff, because the wholesale outlets in Denver didn't have all the equipment at that time. So I got going again and keeping up the profession I kind of got started with in high school. From there then I decided I did want to get a certification and I had an uncle who lived in Fort Morgan that talked me into it – you should go into Boulder and go to school at the University rather than any other school around. And I kind of listened to him and I did that. Then I would still drive back out on weekends to put up antennas in Morgan County out there and so on. I got to a point then, in fact after one year, my wife and I got married and we lived in the married dormitory on campus. So I quit going out there to do that. I closed out of that. I got a job in Boulder just repairing what we call the dogs that they couldn't fix at the homes that we went out to. They would bring them into the shop and the person had this TV shop, Burt TV down on Pearl St. He allowed me to come and go whenever I had extra time but I'd get a few hours in during morning before I'd go to school. So stayed with that end of the business for an awful long time for a pretty young age. And actually then I graduated, just said a while ago, that I had in mind maybe of extending my education past my first degree, I took a job in Denver then at a wholesale house. I just thought that would be really temporary and that's when, after I had been there for a while, I realized how interesting that I found that. I, of course, ended up being promoted up to the General Manager and worked there for about 8 years at that one job. And that was a wholesale house of TV antennas, picture tubes, and resistors and parts and so on like that.
BACKMAN: How did you become interested in the cable television business and tell us a bit about your career.
WOODY: One of the largest manufacturers of cable TV equipment was Jerrold Electronics and we sold Jerrold products. And so I got very familiar with them. Found it very interesting from more than just installing antenna. It would be actually doing a system where it would be a motel, hotel or housing development. When you got into cable TV of course it was pretty new industry at that time, but I did get involved in that and some of the early stuff, I just realized now that I didn't know at the time, how significant it was and what it would be like on down the road. Example of that would be that there was a lot activity going on in the mountains and people would come, sometimes it would be a motel operator would come down and he wasn't that far out of Denver but he was over the mountain top and so he would have to put an antenna on the peak and run his signals down the hill to the village where he was apt to get that. So I sold a lot of equipment for that time and in the very beginning we had the technology we called open ladder line. And so we bought and stocked open ladder line at the wholesale house and then had devices that would go on that that would be called tappers, to get it back down to 300 ohms so that it would be just like the grid behind your TV set. Or when we were coming down the hill we would want the tap off to your house, we had a transformer but it was just another piece of that open ladder line that would go to the main line and would just radiate over that to take off. Now, I think there's some of that in your museum in the basement but at that time I didn't have any idea of how significant that was to an industry that was just getting started. I did that for 8 years there in Denver at the wholesale house and got to know the people at Jerrold so well, found it so intriguing. They started talking that they'd like me to come work for them directly at the manufacturer. And the first go around, they had an opening for me in Philadelphia, that was their home base and they also had an opening in California. So I said I would go to either place and when the time came down to it, why they said "We're ready for you in California." So at that time I really didn't think that I would probably want to move any farther west than Denver but we kind of thought that was God's country anyway. We made the move and so Jerrold had a large operation in California at Redwood City and I traveled the lower western state out there as the assistant manager for Jerrold on the West Coast. And then later they contacted me and said that they had an operation in Kansas City and would I consider moving to Kansas City because they needed a manager — the manager was leaving. And it's funny, that's near where I grew up in [?] but we thought we'd never go back there because it's too hot in the summertime and too cold in the winter, that only Colorado was really the God's country but we made the move back to Kansas City with the company. By that time the company changed its name from Jerrold to General Instrument. That was a little bit of a shock when that happened to me. I got into California and hadn't been out there but one year and all at once the company that I knew by name had changed its name and might have hesitated a little bit about changing jobs if I thought they were going to have such a big change coming up that soon but it all worked out fine.
I stayed with Jerrold for 18 years so I did a good stint there with them. Even though I continued to be, the company went through a lot of changes, I kept saying Jerrold but it's really General Instrument at this time. They had different responsibilities, it got so that I had the whole western half of the United States. I had salespeople working for me. So I liked that. At the tail end when I decided to move to the next company, I went to work for a company called CATEL, CATEL Communications back in California. But I didn't move back to California. It was near the area that I just came from. They were located in Santa Clara and later in Fremont but one of the major things that needed to be taken care of in the beginning was to work with their sales reps across the country. So Kansas City just worked out fine. I had the ability to travel all over the United States and when you're living in the center of the country; it cuts down on your flight time and just makes it easier to do that. So they said we'll probably use that for maybe five years — that plant but I would go up maybe once a month for meetings. But in about 5 years, they were in financial troubles so I started to look and to think that maybe I would look at something different. One of the unique things with them is that they were the first leaders into fiber optics for cable TV. That came about because their product that was strong in cable TV was what we called wideband FM transports. We were able to move signals at a high quality level and replace sometimes microwave hops. Most people, people in the early days they disliked the microwave. That was the only solution they had to get the signal over the hill or out to distant areas. But it was expensive. It took all of that electrical power to run those and so they were happy to see the new technologies to come along to replace some of those hops. So since that was the primary business of CATEL and that we were early on in fiber optics, we just build a transmitter and receiver and in order to make the signals go very far. Their transportation equipment was wideband FM. So we would take the TV channels and convert them to a wideband FM channel which took up maybe like 4 MHz instead of 6 MHz and we could do 16 channels that we could move. Where it would be high quality when we got it over and so that worked out real well. But once again that company got in financial problems and by that time then Anixter in Chicago had made an arrangement with AT&T to develop a laser that could handle the AM TV channel signals and put a lot more on there. They could handle about 40 so that made it a lot cheaper to move forward with fiber optics in the cable industry. But there was always installations that required so much of it being FM to meet the requirements. I had that background going and they became very interested in me then to join with them and in the very beginning it was just called Anixter Brothers Cable TV Group. Then they a formed a special group just for fiber optics that was called Optical Network International, so ONI, so I became ONI with them, it was all part of the same group. And that went on through the stages where it became Antech, Anixter Technology and that's what was happening when I left. However, today that group is called ARRIS. A-R-R-I-S. And they're still in business. It's really the last company that worked for and that came about, they are of a distributor nature and so actually after for my career, I had four major cable groups that I worked for and two of them were manufacturers and two of them were distributors. But I never designed. That kind of what, I realized early on from college time that I thought that when I got the taste of the wholesale, I realized that you know what, I don't really think that I care about going back and trying to an additional degree where I'd be doing design. I like the technology and I like the idea of selling it and teaching other people the applications of it and so on. That kept me on that course.
That was my last employment and everything was going well with Antech or ONI or ARRIS or whatever you call them now, that it ended up that the split came after to me. They wanted to get into the cable TV business because people know Sprint for the cell phone however they also have the landline in many towns in about 19 systems across the country or so on. And it ended up that group had planned on that the industries are getting together and they would be getting into the cable TV business. So Sprint North Supply is a supply house for Sprint and they also sell all of the telephone companies. So their thought was if we're getting into the cable TV business, the industry is moving that way. We don't handle that type of supply equipment, that we'd end up going to wholesale houses to buy, or manufacturers to buy this, we should add cable TV to our warehouses. They had 9 warehouses across the country from Florida to California for telephone products and had salespeople sell them to the independent phone companies as well as the Bells and so on like that. So they made the decision then to add cable TV to it. They seeked me out. I was aware that they had to been to some shows and were looking for some people but I thought it would never be me because I was very happy working with Anixter out of Chicago. When I was with them, I still had an office from my home in Kansas City and I spent time in Chicago, Dallas, and Denver. Spent a lot of time out in the Denver office they had out there. They also had me travelling to Canada a lot and I kind of enjoyed that because I had done work in Canada with CATEL from California. And then they also sent me to the cable shows in Europe. So I got to do that over there. Some of that came about because of my involvement with SCTE and we'll cover that in just a little bit later. Anyway, that's what got me to Sprint and I had a lot of trouble deciding to make that move because here I am had companies in the past that had got trouble financial — that I'd moved on my own and here was one that I was be touted to leave where I was happy and go and start over. And finally I made that decision then to do that. A little bit because it was a onetime opportunity because I felt that I could do it, it was just a matter of did I really want to it. And it ended up that was the first time I ever ended up working in the same town as where corporate headquarters were located because when I was in California, everything was in Philadelphia. Then when I worked back in California for a California company, I was in Kansas City and then with Anixter, I was living in Kansas City and reporting strongly to Chicago. And here I have, Sprint is located in Kansas City, so my home town of where I'm living and then I work there. But it worked out well. I put together a company for them. I hired sales people. We called on the regular cable people too. Did business with the regular MSOs. You wouldn't know it but in the industry and so on like that.
BACKMAN: Today you have a cable consulting firm, Wendell D. Woody & Associates, what does your business entail?
WOODY: I stayed until past retirement really. I worked there until I was 67 and finally decided that I would retire and then it was out of that that I didn't stay retired very long. I had such an interest in still working and had an opportunity, so that's where I formed a consulting company. I had continued on, it's been 11 years now; I've been doing this consulting.
BACKMAN: Eleven years, okay.
WOODY: That's why when you say I'm a founder of Wendell D. Woody Associates, that's really, I didn't want to pick any other type of name, I wasn't out here promoting a name or so, I was just following through on what I was going to be doing. Now, I have two children. Grown sons and they're after me all the time saying "Dad, when you are going to retire" because they don't like me to say that I'm retired because they don't feel that I have yet. I guess that's probably true. I enjoy shows like the one here, this show here. It's kind of like a reunion for me when I come to the shows because I've been in the industry now, well if I would start off with Jerrold again, that was in 1966 that I joined them. That would give me 37 years but if I actually tell them the time that I had with the wholesale guys, well that would be 45, I think and add 8 on that, I'm talking about 54 years I guess, sort of in the industry.
BACKMAN: You were the past president and are a distinguished member of SCTE. Tell us about that and what do you think the significance of SCTE is. The importance of being a member perhaps.
WOODY: Well, you know I suppose a lot of that would come from my association maybe with SCTE. I was working with CATEL and living in Kansas City and I would go out and call on cable companies out there and some kept talking to me about would you help us start a chapter in our area. And as you know now, there's about 70 some chapters around across the country. And at that time I started the Kansas City chapter there and when I was doing that, I think we were maybe about number 15. And I think Denver's chapter had started about the very same time. Because I saw something the other day where it said I think there about '85, there were only about two chapters in '87, meeting groups. So, it all blossomed at one time. So that got me moving and I started that chapter and then I got elected to be on the board and my first year on the board, I got voted to be secretary. And I did that for a couple of years on the board and out of that, I kind of realized, when you're the secretary of an organization you probably get more involved and know more about it than almost anybody else on the board except the president, but you really know the details of it. So after I did two years of that, I got elected to be the president of the board and during that period of time, I ended up changing the titles of the people in the organization, both the permanent people and the board people. And I changed the title of the president of SCTE to the chairman of the board, which is really the true job. And then we gave the president title to the full time employee, the head of SCTE, which in the past had been called Director, Executive Director. And so that has stayed that way. But going back to the SCTE, the SCTE let me get around a lot to the area, the country actually and get to know so many people. I was fortunate really to be working for Anixter. I reported to Gordy Halverson, who reported to John Eagan. And they decided that the perhaps business was kind of slow at that time – because cable business as you know goes up and down depending on what the industry, what's happening there – and they said you know probably one of the best things that could help from an advertising standpoint, why don't we just make Woody on the permanent show list. So wherever the show, Anixter was always going to be there. So whoever else they sent, they always sent me. And here I am like the president of SCTE. So then I would go to that show and speak to the people, the SCTE members and the chapters in those areas, so I just got all over the country meeting all the SCTE people over the whole United States. That's really kind of built me up with this business when I say it's hard to leave the industry now because it's kind of like a reunion when I come to these shows here because I get to see all these people.
Early on, they used to have an award they called the Personal Achievement Award and that's kind of faded out over the years. Much of that was done based upon working with chapters and so on, people got that. When I was a director the board for my region because originally I did four years representing my region and then I just dropped off. I thought it was time for other people to serve and get going but then they asked me to run for member-at-large. And so I did that then for three terms or six years. So in between there I was immediate past president so I attended all these for that. So I've served actually on the board for 11 years and then got away from that. I ended thinking I had just about everything, I guess, the Hall of Fame, that came about later. Member of the Year, Personal Achievement, and then it was just two years ago at this show, I was awarded a Distinguished Member Award which don't have this thing. I just couldn't believe well I got that award because it didn't exist and they said "Well, they just thought that I'd been around so long and still continued to support the Society that…"
BACKMAN: Good for you. You also served on a number of cable association boards, are these associations still relevant today?
WOODY: Well that's right. So there's only been one of those so far. Well, certainly there's not as many cable associations that were when I was on. I also served that area early on. I was on the Mid-America Cable Association board for 17 years, I think. And the Missouri Cable Association board for about 15 years. And I eventually dropped off both of those but they still exist today. But they sort of serve a little bit different role than what they did at that time. All state associations still have something as far as an association but it's not as strong as it used to be because it's pretty well dominated generally by one or two MSOs and they don't have all the independents that need to get together and work together because they have their own government people to work. But those two organizations did stay, in fact we have the Mid-America is now just serving up a show that serves Missouri, Kansas, Oklahoma, Arkansas and Texas. Texas used to have a great big show there. Everybody looked at Texas and here they are and they don't exist. They come to the Missouri Show or the Mid-America Show. And then of course, Mid-America's changed and adapt to that a little bit too. They hold it in Branson, Missouri, down in the corner so that makes it easy then for these people to come from the other states. It gives them another cause they can come with their family and that's a great entertainment area there and so on.
BACKMAN: [They go to the theater.]
WOODY: Yeah, that's right. Then that group, back when I was serving on that board, we put together something a little bit like the Pioneers. Our group in that is called the Pathfinders. And the Pathfinders is people from that region or area that have been in the industry for a long time and does something significant or gave back. So we formed that group, 10, 15 years ago, I guess. Each year, we bring the people in as a Pathfinder and you have to be nominated and write up the paper work and they select. So each year we have that. I have sort of been the honorary or just because I'm old, I come down each year and participate with that and indoctrinate the new members into the Pathfinder Organization.
BACKMAN: Are there any memorable people that you worked with during your career in cable?
WOODY: Well, I suppose if I were looking in terms of the beginning, you know when [Milton] Jerrold Shapp was, he was the president that owned the company when I started to work with him. In my daily life, certainly didn't see him on a daily basis in the field, I did know him and I had met him but then he moved to get into politics and started running for governor of Pennsylvania. He was kind of forced to sell out his interest in the company and that's when things started changing as far as the name and so on like that. I guess still within that organization, another person from that group, Selmen Kremer, he was, he's a cable pioneer and he was early on with Jerrold that put the annual reports together, the advertising person. I was actually reporting to him. He was in my sales division when I was out in California and he was the person who moved me from California to Kansas City. I see him at the Pioneer Show every year and we communicate by email. Another pioneer would have been with CATEL. The president of CATEL when I went to work there was a person named Frank Genochio. He's since passed away, but for some reason I had never knew him until I got contacted to work with the company there and I had people who knew him well and you know if there was anything negative about Frank, Frank is such a nice person, he might be just too nice for himself, his employees and his customers. I thought well that is certainly a funny recommendation of somebody and sure enough after I had worked with them for 5 years, I decided that was a very good description. I just don't know of hardly anybody that is such a nice person in the industry. so I think all these people sometimes have some sort of influence on you.
BACKMAN: What would say cable's legacy is or the greatest achievement of the industry?
If I looked at any one thing because we just lived through all these technology changes, I guess I'd have to think that the most significant thing was the movement of satellite, the channels. Because until that time, you know, we were really pretty limited with our channel selection. So how high a tower could we put up to receive some direct channels around and then microwave helped expand that out in a little different manner. But cable really to my mind really changed when the satellite went up and we were able to have programming, more programs and more, they just kind of became unbelievable then the type of programs we have. The choices we have. And then if I look for the second big technology that had any impact and that would be fiber optics. So I didn't really play major role in satellite. I got involved in that from home type thing, that my company, we manufactured equipment for the home installations and so on, but then fiber optics I really kind of grew up in that because my relationship with CATEL and moving on Anixter and Anixter had AT&T building lasers for them. That was really a big involvement. We had AT&T as a partner and we'd take customers to their plants where they were building lasers or building fiber and so it was more of an educational thing to see that group. But that had to be the next biggest thing. Then out of that fiber, the cable industry was able to expand into internet and telephone and so but I think the technologies would have been satellite and fiber. These are the two things now because we always had new little things all of the time and so you come in to a show like we have today, the floor's full of new ideas or new products down there but it would take something significant. I also recall from my early association's in the cable associations was that we used to have the fear of that eventually someday that the telephone companies were going to take over us. We used to have a lot of meetings and talk about what's going to happen when the telephone companies take over our business and so on and finally reached a point then later on, it looked like know what cable's holding their own in this industry – and now, probably cable has got a big hunk of the telephone business too. So it didn't quite go the way that some people feared thinking that the big giant phone companies were going to run all of us cable people out of business. It ended up that they both had their niche.
BACKMAN: Anything that you would like to be remembered for?
WOODY: I'd like to try to do as much as I can helping other people along. I worked with Les Read every year in the Cable Pioneers and to bring additional people in. I find that people being awarded for their achievements and so on, really does stay with people. I even forget sometimes who I've helped, people to get into Pioneers or help them advance in an SCTE things or even my Pathfinder group. It kind of feels good sometime when somebody reminds you that got me into this. Somebody can show me something that I said to them onetime that had a meaning to them. I guess, you know, if you can touch a few people that helps them move along, I guess, I've had people that helped me and it's nice to be able to do that.
BACKMAN: Any good stories to share before we end?
WOODY: I recall one time that was coming back to Denver to call and make cable calls over there and I stopped in at the old wholesale house, that I used to be the manager over there and I was visiting with them there and I had mentioned that afternoon I was going to go around and call on Jones Cable, Jones Intercable it was called at that time, and we had a Japanese controller there and he heard me tell the owner there something that's where I was going to go so before I left the office there, he called me and said "Wendell, you need to come in and see me before you leave." So I went in to talk to him and he said "Now, you're talking about Glenn Jones that you're going to see." I said "Yeah, that's right." He said "You know, I just want to give you a little tip. He didn't pay his bills very good and I'm not for sure he may not make that." And I said "John, how long ago has it been since you had anything to do with him?" That was five years ago or so or ten years when use to come by our wholesale house. He was a lawyer down 16th Street and he had a little pickup and he was building Idaho Springs, his first cable system before he got to be a giant. And he would come by our wholesale house and pick up cable or something in his old pickup truck and he had an open account there and it ends up, sure everybody in the cable business, they owed the suppliers and that's how they got started. And so I'm saying "John, hey, he's one of the bigger MSOs right now. He's got that big glass building out there. He has a penthouse, he lives in it." So it was like amazing to him that such a thing had taken place. So I guess kind of the moral of that story, that you end up, your early reputation sometimes maybe sticks with you longer than it should and on the other hand you shouldn't be dispensing information.
BACKMAN: Well, thank you Woody. This has been a great discussion. We have been speaking with Wendell Woody at the SCTE Cable-Tec Expo here in Orlando, Florida for the Cable Center's Hauser Oral and Video History Program. I am Lisa Backman and today is October 17, 2012.