Founder, former President, CEO and Chairman, Daniels & Associates, 1998 Cable Hall of Fame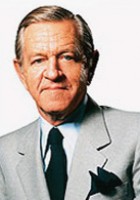 If there is any reason for them to call me the 'Father of Cable Television,' I would think it would be because I was the first guy to recognize it as a hell of a potential business, and I brought the financial community in to really make it a business…
Bill Daniels brought TV to Casper, Wyoming becoming the first community antenna operator to use microwave links to import signals from a distant city, in this case Denver, 200 miles away. He would build more systems and serve for a year as president of the National Cable Television Association (NCTA), an organization he'd helped found.
During his travels as NCTA president, Bill Daniels would realize that community antenna operators all over the U.S. needed two things: help starting, buying and selling systems, and financing to accomplish their goals. In 1958, after settling in Denver, he formed Daniels & Associates, a company that not only brokered cable systems, but also helped entrepreneurs get started in the business, providing management and engineering expertise in exchange for a percentage of the system's equity.
By 1988, Daniels' cable operating company ranked among the top 25 multiple system operators in the United States. Daniels merged all but two of the systems, both located in California, with United Artists Communications in order to focus on his brokerage and investment banking businesses and on Prime Ticket Network, a Los Angeles regional sports service. He would later partner with Tele-Communications Inc., in creating Prime Network, owner of a string of regional sports networks around the U.S.
Later in his career, Daniels would pursue a variety of philanthropic ventures, including establishment of the Young Americans Bank, the first chartered bank in the U.S. dedicated to providing a hands-on learning experience to children and young adults. In November 1988, he presented the largest gift ever awarded to the University of Denver, an $11 million grant to help revamp the school's master of business program to include new required courses on ethics, integrity, demeanor, communications, negotiations, manners and social involvement. At Daniels' suggestion, the school polled U.S. businesses, asking for feedback on the graduates it was turning out. Poll results convinced the university to revamp its business curriculum, integrating courses on marketing, finance, accounting and other disciplines so students graduating in any one field would be conversant in the others.
Today, Daniels & Associates continues to rank as one of the leading media brokerage/investment banks in the United States.