President and CEO, AMC Networks, Inc. , 2013 Cable Hall of Fame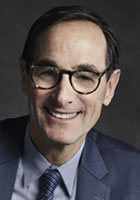 One of entertainment's premier innovators and a pioneer in the cable industry, Josh Sapan leads AMC Networks Inc., which owns and operates popular and award-winning brands: AMC, IFC, Sundance Channel, WE tv and IFC Films. Under his leadership for the past twenty-five years, AMC Networks is the fastest growing programming group in the country, and was the only programming group selected by Fast Company as one of the Top 10 Most Innovative Companies in Film & TV in 2010.
Among Sapan's many achievements was the evolution of AMC from a classic movie channel into one of today's leading entertainment destinations. With quality originals like Mad Men and Breaking Bad, and favorite films from every genre and decade, AMC is known as home to the best stories on television. In 2011, the network made television history when it won the Emmy® Award for Outstanding Drama Series four years in a row, as well as the Golden Globe® Award for Best Television Series – Drama for three consecutive years.
Sapan broke new ground with the creation of IFC and WE tv. Launched in 1994 under Sapan's leadership, IFC is now a network targeted to the young male demographic, and has become known for scripted alternative comedies like Portlandia, and the Primetime Emmy® Award nominated docu-series, Monty Python: Almost the Truth (The Lawyer's Cut).
Sapan also directed the 1997 launch of WE tv, a rapidly growing women's network, with original programming that offers an unfiltered view of modern family life during relatable moments with unscripted series' like Bridezillas, Braxton Family Values and Joan & Melissa: Joan Knows Best?.
In 1997, Sapan spearheaded the creation of IFC Films, designed to bring the best specialty films to the largest possible audience. This division operates three leading U.S. film distribution labels; IFC Films: a distributor of talent-driven, independent film; IFC Midnight: a distributor of genre entertainment including horror, science-fiction, thrillers, erotic art house, action and more, and Sundance Selects: a distributor of prestige films that focuses on American independents, documentaries and world cinema. All three labels utilize a unique distribution model that makes independent genre films available to a national audience by releasing them in theaters as well as on cable's VOD platform. Notable IFC Films releases include: the Golden Globe®-winner Carlos, Oscar®-nominated films Pina, In the Loop, My Big Fat Greek Wedding, Y Tu Mamá También and Transamerica, as well as the Cannes award-winning biopic Che, starring Benicio Del Toro. The division also operates the IFC Center, a state-of-the-art cinema that shows art-house films in the heart of New York's Greenwich Village.
Sapan also spearheaded the development of the Bravo network. Launched in 1980, the network made arts and culture an essential part of the television landscape. Sapan's oversight of Bravo's growth included the creation of such notable programs as Inside the Actors Studio and Queer Eye for the Straight Guy, which resulted in its sale to NBC in 2002.
Sapan, who was recognized by Fast Company in 2010 as one of the "100 Most Creative People in Business", serves on the board of The Cable Center, the Cable & Telecommunications Association for Marketing (CTAM) Educational Foundation, the International Radio and Television Society (IRTS) Foundation, the Museum of the Moving Image and the National Association for Multi-Ethnicity in Communications (NAMIC) Foundation. Sapan was inducted into the Broadcasting & Cable Hall of Fame and is a recipient of the National Cable & Telecommunications Association's (NCTA) Vanguard Award for Programmers and Vanguard Award for Marketing, CTAM's Grand TAM Award and Chairman's Award, the Association of Cable Communicators' (ACC) President's Award, a PROMAX Brand Builder Award, the T. Howard Foundation's Executive Leadership Award, the Joel A. Berger Memorial Award for outstanding contributions to the fight against HIV/AIDS, and the Media Financial Management Association's Avatar Award.
In addition, Sapan serves on the board of People for the American Way, WNYC Radio and The New School University. Sapan is the author of Cable TV, published by Random House, and is a published poet with his works appearing in more than twenty literary magazines.