Founder, former President and Chairman, , Comcast, 2000 Cable Hall of Fame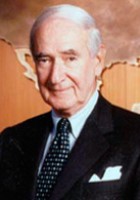 Cable television is a pure, unadulterated demonstration of what can be done in America. We've taken a great idea and in one generation created a new industry and made it available to over 90% of American homes.
Ralph J. Roberts was born in New York City and spent his early childhood in the suburb of New Rochelle, New York. At age 12, after his father died of a sudden heart attack, Ralph's mother and siblings sold their home in New Rochelle and moved to Germantown, Pennsylvania to be near a sister who was in poor health.
After college at the University of Pennsylvania's Wharton School and four years as a lieutenant serving at Philadelphia's Naval Shipyard, Roberts partnered with an engineer to form a business that scouted for new products. After subsequent jobs at a local ad agency and Muzak Corp., Roberts joined Pioneer Suspender Company, the second largest manufacturer of men's fashion accessories. He rose to the top, bought the company and steadily expanded it until 1961, when he sold out after seeing the proverbial writing on the wall: beltless slacks were coming into vogue while cuff links and tie tacks were on their way out.
In 1963, Roberts formed International Equity Corp., which invested in launching new businesses. Dan Aaron, who had worked at Jerrold Electronics, came on board to run the cable division of the company and Julian Brodsky joined the firm as Chief Financial Officer.
For the next decade, Roberts, Dan Aaron and Julian Brodsky bought and launched cable systems. In 1969, the company's name was changed to Comcast, an amalgam of the words "communications" and "broadcasting." It went public in 1972.
By the early 1980s, Comcast's cable effort was in high gear, as the company acquired systems and bid for new franchises. It was already known as a financial innovator for arranging separate funding for each individual system.
Shortly after Group W put its systems up for sale in 1984, Roberts was contacted by Time Inc.'s then – chief strategist, Gerald Levin. He wanted to know if Comcast would like to partner in buying the Group W properties. Days later, TeleCommunications, Inc's (TCI) then – president John Malone called, asking if Comcast would like to team with them in the same acquisition. At Roberts' suggestion, the three companies worked together on the deal, and Comcast walked away with 26 percent of the Group W systems, bringing its subscriber count to more than one million and putting it on the map.
Throughout the 1990s, Roberts and his son Brian expanded Comcast with key cable acquisitions including Jones Intercable, Suburban Cable, Scripps-Howard and Maclean Hunter.
They also assembled the largest cellular telephone company in the Philadelphia area, which they later sold. In 1986, Roberts partnered with Joe Segel, the founder of the Franklin Mint, to create a home shopping network called QVC. In 1997, the company diversified into programming and invested in the Golf Channel, Speedvision and Outdoor Life Network and partnered with The Walt Disney Company to buy E! Entertainment Networks. In 2005, Comcast acquired the cable division of AT&T.
Today, Comcast is the largest U.S. cable company and is also the nation's largest broadband Internet service provider. Comcast has also expanded its content portfolio, creating or investing in services like G4, AZN Television, the regional Comcast SportsNet, PBS Kids Sprout networks and TVOne.
Today, Ralph Roberts still reports to his office in Center City Philadelphia, spending nights at an apartment in town and returning to his horse farm in Chester County on weekends. His wife, Suzanne, has a public service television show for viewers over 50 entitled, Seeking Solutions with Suzanne. Ralph and Suzanne maintain a close relationship with their five children and eight grandchildren. His son, Brian, who has been working for the company for 25 years, is now Chairman and CEO.