Founder, TelePrompTer Corporation, 1998 Cable Hall of Fame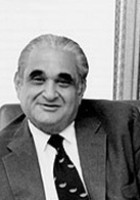 Originally, I didn't know what cable was and I wanted a place to experiment with pay TV …. When we got there, we began to see opportunities.
For much of his life, Irving Kahn remained at the hub of a cable industry that was just spinning into focus in the 1950s. He helped to invent the teleprompter, turning the device into a staple of the entertainment and political presentation industry and adding a new word to dictionaries of the world. Later, the same word would be associated with the largest cable operating company in the U.S., an enterprise Kahn began building in 1959.
Toward the latter part of his career, the resilient Kahn launched many companies that sprang from his cable background: BroadBand Communications Inc., to secure films and other programs for pay cable; Choice Cable Corp., a 55-franchise system in southern New Jersey utilizing fiber optics that he eventually sold to the New York Times in 1980 for $100 million; Times Fiber Communications, to develop fiber optics; and General Optronics Corp., to manufacture laser diodes for use in fiber optic systems.
The only son of Russian immigrants, Kahn grew up in a home where his parents' lack of formal education did not dampen an intense interest in the arts. Influenced by his father's affinity for poetry and physics and his mother's for Shakespeare and literature, Kahn developed an insatiable and passionate curiosity, a characteristic that propelled him through life.
His bravado earned him another role after college as a press agent for bands, and in the late 1930s for 20th Century Fox in film and radio promotions. After serving in the U.S. Air Force during World War II, he rejoined Fox, and demonstrated a knack for keeping his hand on the door knob in anticipation of opportunity's knock.
Kahn enlisted the engineering expertise of colleague Hubert J. Schlafly. By 1951, after numerous prototypes, delays and financing snags, they launched TelePrompTer Corp. The device that displayed script lines and cues for public speakers and actors led to adaptations for use in telecasting big-screen closed circuit events such as boxing matches and auto races.
In 1960, Kahn made waves at the National Cable Television Association convention in Miami, where he treated attendees to the live, closed-circuit showing of the title-fight between Floyd Patterson and Ingemar Johansson. An estimated 25,000 cable subscribers in 13 cable systems around the country were paying $2 each for the same showing.
Among the challenges Kahn faced in his life was a felony conviction in the late 1960s for bribing city officials in Johnstown, Pennsylvania. He admitted the payments, but said they were extorted from him for a cable franchise renewal. He served 19 months of a five-year sentence, but staged a memorable comeback upon his release.
Bill Bresnan, who became president of TelePrompTer's cable division after it merged with Jack Kent Cooke's H & B American Corp., and who today is president of Bresnan Communications, remembers Kahn as "provocative and bombastic, a rough-and-tumble kind of guy with plenty of sizzle. He was a visionary who made people think about where the industry was going."
As a futurist, Kahn realized that cable television was more than a one-track medium. "Cable," he reflected prophetically in 1987 while taping his oral history for The Cable Center and Museum, "is not the right word anymore. You have a variety of technologies, like coincidence of design, totally unrelated to cable, that have forced the development, causing a total blending of communications."