Ex-Vice President, Retired, Scientific-Atlanta, 2010 Cable Hall of Fame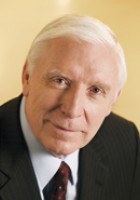 In over three decades with Scientific Atlanta (SA), now a part of Cisco, Dr. Allen Ecker held executive positions leading up to Executive Vice President. During the transition from analog to digital, he was President of the Subscriber Sector, the business at SA for End-to-End Digital Video Systems and Digital Settops. Under his leadership the Subscriber Sector became the growth engine for SA. Also SA won Emmys for its role in developing MPEG Video and VOD.
Dr. Ecker earned BEE and MSEE degrees from Georgia Tech and a PhD from Ohio State. At Georgia Tech in football, he was 1st Team All SEC and Academic All America, and 2nd Team All America. He was chosen for the 2007 Total Person Former Student-Athlete Award at Georgia Tech. He is a member of the Board of Trustees for the Georgia Tech Foundation and was inducted into the Georgia Tech Engineering Hall of Fame and the Georgia Tech Athletic Hall of Fame. Most recently he was the recipient of the Joseph Mayo Petit Alumni Distinguished Service Award, Georgia Tech's highest Alumni Award for lifetime leadership in his profession and in the community.
In 1995 Dr. Ecker was selected "Innovator of the Year" by the Southeaster Cable Television Association for leadership in digital video technology and in 1999 he was inducted into the Technology Hall of Fame of Georgia for significant contributions to the high tech community. In 2004 he received an Award for Leadership in Interactive Television at the NCTA National Conference and in 2005 he was given the Lifetime Achievement Award for Innovation by the Atlanta Telecom Professionals. Dr. Ecker is a Fellow in the IEEE, has over 80 major publications and has chaired industry technical and standards committees. He is well known in the telecommunications industry as a leader and spokesman.