Chairman, TiVo Inc.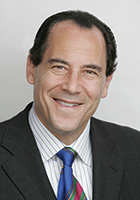 Tom Rogers is Chairman of TiVo. His career has operated at the nexus of media, technology, and public policy for more than two decades. With vast experience running traditional media and new media companies, and creating innovative business models for companies facing new challenges, Tom leads TiVo's efforts to revolutionize the way consumers experience home entertainment. Under Tom's leadership, TiVo has become the leader in providing operators worldwide with an advanced television user experience, provides consumers the only retail cable set top box, and serves the media industry with an array of TV audience research data solutions.
Prior to joining TiVo, Tom was President of NBC Cable and Executive Vice President of NBC, as well as NBC's chief strategist. During his accomplished tenure at NBC, Tom founded CNBC, the nation's leading business news channel and established the NBC/Microsoft cable channel, and Internet joint venture, MSNBC. In addition, he served as co-chairman of the Arts and Entertainment and History Channels, and was responsible for overseeing many other cable channels, including Court TV, Bravo, American Movie Classics, Independent Film Channel, the National Geographic Channel, and numerous regional sports channels. After NBC, Tom was Chairman and CEO of Primedia, which then was the leading targeted media company in the US, where he oversaw Cable World Magazine.
Prior to NBC, Tom was Senior Counsel to the U.S. House of Representatives Telecommunications, Consumer Protection and Finance Subcommittee, where he was responsible for drafting a number of communications laws, including the Cable Act of 1984, which liberated the industry from a patchwork of local regulatory burdens.