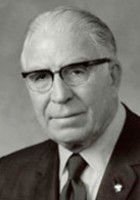 When the history of cable television is written its greatest story will be in education.
Like many towns in Pennsylvania, Meadville, where the Barcos lived, was surrounded by mountains that obstructed the TV signals reaching in from nearby cities.
Barco, who was then the solicitor of the Meadville School District, went home and pursued his idea in his spare time, approaching RCA about its master antenna technology. RCA referred him to Milton Shapp, whose Jerrold Electronics built community antenna systems and manufactured the equipment that went into them.
The two met in 1952 and soon after, Barco formed Meadville Master Antenna Inc. (MMA), hiring Jerrold to provide equipment for the three-channel system. MMA was an instant hit.
The Barco family ran the Meadville system for decades, but Barco's contributions to cable wouldn't come only from his background as an operator. They'd also come from his practice of the law and his love for education. As general counsel of the Pennsylvania Cable Television Association (PCTA) and a leader in both that group and the National Cable Television Association (NCTA), Barco would have a profound impact on the governmental and industry policies that sprang up to govern the way cable television did business.
Born of immigrant parents in 1907, Barco attended Allegheny College in Meadville and earned his law degree from the University of Pittsburgh. After serving as assistant district attorney and then deputy attorney general of Pennsylvania, he opened the firm of Barco and Barco, establishing a private practice with his daughter Yolanda.
The 1950s and 1960s were years of opportunity for acquiring and expanding cable systems, but Barco refrained from adding to his holdings. He served as legal counsel to the PCTA and several cable operators and wanted to avoid ever having a conflict of interest, or even the appearance of one, with a client.
Barco's most dramatic victory occurred in the NCTA board room in 1962, after the association had lost a pair of lawsuits over the question of whether cable should pay copyright fees in order to retransmit TV programming. Fearing another loss, board members felt it was hopeless to pursue the issue further.
Barco disagreed. A member of the board himself, he argued vehemently that cable, which received programming on its community antennas and then shared it among households, was not a transmitter of programming and therefore not legally subject to copyright fees. Barco promised to negotiate a fixed fee with attorneys representing the NCTA in order to hold down costs for the appeal. Finally, the board voted to pursue the case.
The Supreme Court agreed to hear cable's case and, in a stunning decision, reversed the lower courts and issued an opinion in the industry's favor.  Barco's influence lives on every time a Pennsylvania college student registers for an on-air course and also through the Barco-Duratz Foundation, a philanthropy established to fund educational projects. It has made substantial contributions to literacy projects throughout the state of Pennsylvania and has helped a number of colleges and universities participate in the Pennsylvania State Network.