President, ESPN, Inc., 2008 Cable Hall of Fame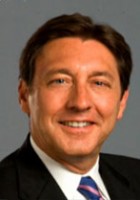 An ESPN and cable industry pioneer, George Bodenheimer, 49, was named ESPN's fifth President in 1998, and since then he has led an unprecedented period of growth for ESPN. Bodenheimer's path to leadership mirrors that of ESPN itself – with his sharp focus on creativity and cutting-edge innovation, his emphasis on always enhancing value for ESPN's fans and business partners, and his conviction for teamwork. In 2003, he was also appointed President of ABC Sports, overseeing all the multimedia sports assets of The Walt Disney Company, and in 2004 he assumed the role of co-chairman, Disney Media Networks, encompassing strategic planning for Disney's media assets.
As President of ESPN, Inc., Bodenheimer leads one of the world's premier brands with over 50 business entities and counting – including six domestic television networks (ESPN, ESPN2, ESPN Classic, ESPNEWS, ESPN Deportes, ESPNU); 34 international television networks; ESPN, ESPN2 and ESPNNEWS (March) HD (simulcast services in high-definition); ESPN Regional Television; ESPN.com; ESPN Radio; ESPN The Magazine and books; the ESPN Zones (sports-themed restaurants); and other growing new businesses including ESPN360.com (broadband), Mobile ESPN (wireless content), ESPN on Demand and ESPN Interactive.
As President of ABC Sports, he oversees one of the broadcast industry's most comprehensive sports programming schedules, which is now branded "ESPN on ABC." Among the premier programming are the NBA Finals, college football including the Rose Bowl, college basketball, World Cup Soccer, the British Open, the Belmont Stakes, Little League World Series, the IndyCar Series featuring the Indy 500, NASCAR and more.
Bodenheimer's vision has led to numerous company and industry-leading innovations in integrated sales and marketing, original programming, rights and business acquisitions, and new technologies, highlighted by ESPN's state-of-the-art Digital Center. He established an organizational structure with leaders focusing on six areas: content across all media, technology, international, sales and marketing, finance and administration.
Bodenheimer joined the company after college in January 1981 as a driver in the mailroom. He rose through the ranks becoming Executive Vice President, Sales and Marketing in 1996. He was graduated from Denison University in 1980 with a Bachelor of Arts degree in economics, and he is married with three children.