Chairman and CEO, OpenTV Corporation, 2007 Cable Hall of Fame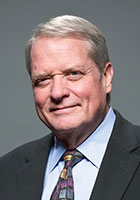 Jim Chiddix is a prominent technology industry executive, and is widely credited with many of the innovations that have shaped modern cable television services.
Jim served as Chairman and CEO at OpenTV Corp. (NASDAQ: OPTV) for three years, beginning in March of 2004. OpenTV is the world's leading developer of operating software and applications for digital set-top boxes. Under Jim's leadership the company achieved profitability for the first time and grew revenues from $63M in 2003 to over $100M in 2006. In January 2007, OpenTV's largest shareholder, Liberty Media Corporation (NYSE: L), sold its controlling stake to The Kudelski Group of Switzerland. Jim continues to serve on the company's board as Vice Chairman.
Jim has also joined the board of Vyyo, Inc. (NASDAQ: VYYO), an innovative manufacturer of extended-bandwidth cable TV transmission equipment, where he also serves as Vice-Charirman. He also serves on the board of Symmetricom, Inc. (NASDAQ: SYMM), a market-leader in precision timing technologies for telecommunications and scientific applications.
Prior to joining OpenTV, Jim served as President of Mystro TV, a division of Time Warner Inc. Mystro developed and field-tested the world's first server-based television program time-shifting service. Some of Mystro's features are being deployed by Time Warner Cable today in its "Start Over" and "Look Back" services, and all will become widespread in cable, telco and Internet video in coming years.
Before starting Mystro, Jim was Chief Technical Officer at Time Warner Cable for 15 years, where he was responsible for technology strategy, engineering and R&D for the nation's second largest cable operator. He and his team led the development of optical fiber technology for cable television systems. Jim was also deeply involved with nearly every other new technology embraced by the cable industry, including local ad insertion, video-on-demand, cable modems, and digital set-top boxes.
Prior to joining Time Warner's corporate office, Jim held a variety of engineering and operating positions with two cable companies in Hawaii. Time Warner Cable's antecedent, ATC, eventually acquired those companies. He also established a successful technology start-up in Honolulu, CRC Electronics, Inc., which manufactured automated videotape playback, delay, and commercial insertion systems. Texscan purchased the company in 1981, and CRC-designed equipment dominated cable advertising until the mid-nineties.
Jim's interest in electronics and technology began with amateur radio in high school and continued at Cornell University, where he studied electrical engineering. During his military service he attended and then taught at the U.S. Army Air Defense Command School at Fort Bliss, Texas.
Jim was inducted into the Cable Television Pioneers in 1991. In 1994 he and his Time Warner engineering team won an Emmy Award for their visionary work on the hybrid fiber/coax architecture that has since become the standard for cable systems around the world. Jim's industry accolades include being named Cable Engineering Digest Magazine's 1989 "Man of the Year", and receiving the National Cable Television Association's 1983 Vanguard Award for work on the introduction of addressable set-top boxes, and its 1991 "President's Award" for his advancement of fiber optics technology. In 2007, the Cable Center announced that Jim had been selected for induction into the Cable Hall of Fame.
Jim has served on a number of boards, including the Computer Science and Telecommunications Board (an arm of the National Research Council), as well as the boards of the Cable Center in Denver, the Society of Cable Television Engineers, N2Broadband (now part of Tandberg), BigBand Networks, and CV-21 (a Japanese cable television company, now part of Jupiter Communications).
Jim's father, Dr. Max E. Chiddix, is a retired research chemist. His paternal grandfather was John C. Chiddix of Normal, Illinois, a beloved high school science teacher and namesake for Chiddix Junior High School there. Jim is married to Trudy Evard Chiddix, a nationally recognized sculptor who works in clay and glass. They have homes in Evergreen, Colorado, and San Francisco. His interests include mountain biking, trail construction and model railroading. Jim recently co-authored Next Stop Honolulu, a history of the Oahu Railway (http://www.OahuRailway.com).