One of the first cable operators in the country, 2005 Cable Hall of Fame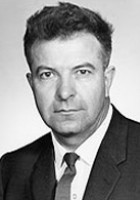 One of the things that got me interested in going into cable TV in a large way, was the crowd that gathered in front of my store… in 1948. When I first put those three channels on, the street was completely blocked with viewers, people watching the pictures in the window.
John Walson, Sr., was one of the first cable operators in the nation. Mr. Walson was born in Forrest City, Pennsylvania on March 25, 1915. After graduating from Mahanoy Township High School in Pennsylvania, he went to Chicago and entered Loyola University with the intention of becoming a physician. Some time after entering the University, he rekindled his adolescent interest with electricity. Coyne Electrical School was nearby and before long he became an engineering student and abandoned his projected medical education.
His love of electronics led him to obtain a General Electric franchise in 1945, selling appliances in Mahanoy. Around the year 1947, Mr. Walson began selling television sets. It was very difficult, or impossible, to receive the three Philadelphia network stations in Mahanoy City because the town is surrounded by mountains and is located some 86 air miles away. Because of this situation, Mr. Walson erected an antenna tower on top of a nearby mountain so he could take his customers to that location and demonstrate his television receivers. In searching for ways to increase his sales in 1947, Mr. Walson decided to purchase some heavy duty twin-lead army surplus wire, and ran the wire on trees from a nearby mountain to his appliance warehouse. Eventually, the line was extended to Mr. Walson's appliance store, and several homes along the way were connected to the community antenna system.
In addition to starting the nation's first community antenna television system in Mahanoy City , Mr. Walson can also claim several other pioneering firsts, including a five channel system using adjacent channels, importation of distant signals using microwave technology, and use of coaxial cable. In the spring of 1979, the 96th Congress of the United States and the National Cable Television Association recognized John Walson as the founder of the cable television industry.
During the last 40 years of his life, Mr. Walson served as a director of the National Cable Television Association, the Pennsylvania Cable Television Association, and numerous other civic organizations. In 1993, he was inducted into the Broadcasting and Cable Hall of Fame. Mr. Walson passed away on March 28, 1993.