Vice Chairman, Rogers Communications Inc., 2012 Cable Hall of Fame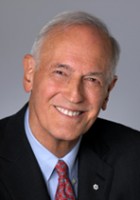 Phil Lind, Vice Chairman of Rogers Communications Inc., is a 42-year veteran of the Canadian cable, broadcasting and telecommunications company. When he signed on, Rogers was a start-up with two small radio stations, 15,000 cable subscribers and a boss, Ted Rogers, with "go for it" attitude.
At Ted's urging, Phil "went for it," acquiring other Canadian cable companies, and quarterbacking Rogers' U.S. expansion during the legendary franchising "wars" of the 1980s. His team won and acquired franchises from Minneapolis to San Antonio and from Southern California to New Jersey. When the dust settled, Rogers' subscribers numbered in the millions.
At home, Phil turned his mind to content. His passion for sports inspired Rogers' acquisition of the Toronto Blue Jays; launched Sportsnet, now Canada's premier sports network; secured previously satellite-exclusive NFL Sunday Ticket for cable in Canada and brought annual regular season Buffalo Bills games to Toronto. He helped launch both Rogers' many community television stations and OMNI, North America's only multi-cultural television network.
A 1999 Cable TV Pioneer, Phil is on the Board of the US Cable Center, was Chairman of the Canadian Cable Television Association, served on the Board of NCTA, was founding chairman of Ontario's Sierra Club and serves on numerous nonprofit and cultural organizations.
He has endowed the University of British Columbia with two Chairs in US Political Studies. In 2002, he was appointed to the Order of Canada – that country's highest civilian honor – for lifetime contributions.
Phil loves sports, fishing, contemporary art, politics and, above all, his children and granddaughter.