Founder, Chairman & CEO, Black Entertainment TV, 2004 Cable Hall of Fame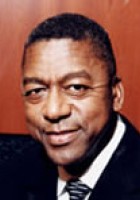 I recognized that as an African-American, I had to seek out opportunities in areas where African-Americans had not yet gone and cable was one of those.
What began as an early and modest effort by Bob Johnson to move racial and ethnic diversity into television programming, turned into an empire of the cable industry.
Mr. Johnson struck a chord with African-Americans and moved advertising appeals into sophisticated treatments of African-Americans' needs and wants. The core BET Network has pioneered an entire genre in television, with its 24-hour programming that targets African-American consumers that now reaches more than 65 million US homes and more than 90% of all Black cable households. That same groundbreaking strategy has evolved into leading-edge digital cable technology with other BET channels such as BET On Jazz: The Jazz Channel, BET International, BET Classic Soul, BET Hip-Hop and BET Gospel. In 1998, Johnson established BET Pictures and BET Arabesque Films to produce and market African-American themed film releases, documentaries and made for TV movies. BET has also leveraged its brand identity into new businesses outside the cable industry with direst ownership of BET Arabesque Books, the only line of original African-American romance novels written by African-American authors. Other BET ventures include BET Interactive.