Founder, Director and Vice Chairman (Retired), Comcast Corp., 2003 Cable Hall of Fame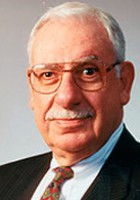 The Comcast alumni, in particular, tell me that the experience (educational efforts such as CTAM's) truly kicked their thinking and skills on business and marketing strategy into high gear.
Julian A. Brodsky, a founder of Comcast Corp., has also served as a director and vice chairman of the company, one of the nation's leading multi-system cable operators. Brodsky served as chairman of Comcast Interactive Capital Group, the venture capital fund arm of Comcast, which seeks and manages Internet-related investments complementary to core Comcast activities.
Prior to his election as vice chairman, Brodsky served as senior vice president and CFO of Comcast. As one of the company's three founding principals, he has been the chief architect of the conservative fiscal policies and creative uses of capital formation techniques for which Comcast has built a solid reputation. As CFO, he oversaw the company's merger and acquisition efforts, international development and expansion as well as capital formation and accounting activities.
Brodsky was elected to the Pennsylvania Cable and Telecommunications Association Hall of Fame and has received the National Cable Television Association's Distinguished Vanguard Award. He is a trustee and member of the Executive Committee of the Board of Trustees of the Philadelphia Museum of Art, a Director of the RBB Fund, Inc., a mutual fund, Internet Capital Group and NDS Group PLC, and serves on the Board of Directors of The Cable Center as well as that organization's Capital Campaign Steering Committee. He is a Certified Public Accountant and was graduated from the Wharton School of Finance and Commerce of the University of Pennsylvania.