Host of Larry King Live, 2012 Cable Hall of Fame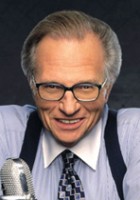 Larry King is the host of CNN's Larry King Specials and former host of Larry King Live. He has been dubbed "the most remarkable talk-show host on TV ever" by TV Guide and "master of the mic" by TIME magazine. King's unique, conversational approach to interviewing has changed not only the landscape of cable television, but television news in general.
Before broadcasting to an international TV audience, King was a popular media personality in Miami where he hosted interview programs for WIOD-Radio and WTVJ-TV. From 1978-1994, King's voice was heard by millions of radio listeners on Mutual Radio's "The Larry King Show."
King has conducted some 50,000 interviews over the past half-century, including exclusive sit-downs with every U.S. president since Gerald Ford and many of the biggest newsmakers, politicians and celebrities in the world including: Marlon Brando, Mick Jagger, Johnny Carson, Hillary Clinton, Bette Davis, Billy Graham, Lady Gaga, Audrey Hepburn, Monica Lewinsky, Al Pacino, Eleanor Roosevelt, Frank Sinatra, Barbra Streisand, Elizabeth Taylor, Oprah Winfrey and Malcolm X.
King has received several awards over the course of his career, including the prestigious Allen H. Neuharth Award for Excellence in Journalism, and was inducted into five of the nation's leading broadcasting halls of fame. Both his radio and television shows have won the George Foster Peabody Award for Excellence in Broadcasting. King has an Emmy Award for Outstanding Interview/Interviewer and in 2011 received The News and Documentary Emmy Lifetime Achievement Award.
King is married to singer/actress Shawn Southwick-King and is the father of Andy, Larry Jr., Chaia, Chance and Cannon and stepfather to Danny Southwick.