Former Vice Chairman, Warner Cable , 2001 Cable Hall of Fame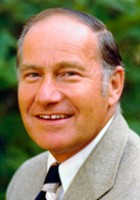 In the early years of cable television, particularly in the big cities, the demands for local origination at the expense of the cable company were enormous. We had to combat that over and over and over again. It was the reason we had to keep our politics clean and our public relations very, very strong.
After attending the University of Minnesota and serving in the U.S. Navy, Harris started out in the television broadcasting business and became involved in the cable industry in the late1950s, when he began buying systems and winning several franchises. For the system in Bakersfield, CA, he partnered with Time-Life Broadcasting, which was Time's first involvement in the cable business. He also helped build Cypress Communications, one of the first public cable companies, and later sold it to Warner Communications, where it became the foundation for Warner Cable. After the sale, Harris served as vice chairman of Warner Cable.
He later left Warner to start his own cable company and managed the first profitable cable system in Puerto Rico. In the late 1970s, Harris served as chairman of Premiere, a pay-television service started by a group of Hollywood studios. Premiere went out of business before it even launched because the U.S. Department of Justice threatened to sue for antitrust law violations. Harris was involved in the public policy arena, serving in various positions at the (NCTA), including serving as its chairman in 1976-1977.