Founder, Uvalde Television Cable Corporation, 2001 Cable Hall of Fame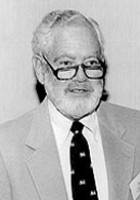 …the provision of cable service to a community is a very, very personal thing….I think it's a very personal and important service that we render and we've got to take it very seriously…That's all part of your appearance in the community. I think it's important to tell people how you feel about the service…
A cable industry pioneer, and enthusiastic jazz pianist, Ben Conroy has had a multi-faceted career. After receiving an Engineering degree from the US Naval Academy and serving in the Navy, he entered the cable industry in 1954 when he founded Uvalde Television Cable Corporation in Uvalde, Texas. For much of the next three decades, Conroy held ownership and senior management positions in GenCoe, a holding company operating cable systems in six states and in CPI, a holding company operating cable systems in eleven states (1966-1979). In 1979 he established Conroy Management Services, Inc., which provided cable companies in Texas with management services in areas of administration, operations, engineering, sales promotion and finance.
Early on, Conroy realized the importance of industry associations. He was a founder and the first president of the Texas CATV Association and was involved with NCTA in a number of capacities, including secretary, member of the board of directors and served as their tenth national chairman from 1965-1966. He received several NCTA honors including the Advertising Award, the Larry Boggs Award and the Interindustry Relations Award. Regionally, he received the John E. Mankin Award from the Texas Cable TV Association. He was also the Chairperson of the Cable TV Pioneer Managing Board from 1968 – 1993. Conroy was also instrumental in the beginning and early development of The Cable Center, where he served as the first Chairman of Board of Directors of The Center when it was at Pennsylvania State University.
Benjamin J. Conroy Jr. was born on October 28, 1923 in St. Johnsbury, Vermont. From 1941-1944 he attended Brooklyn College, Brooklyn Polytechnic Institute and Holy Cross College in Worcester, Massachusetts. In 1948 he received a B.S. Degree in Engineering from the Naval Academy in Annapolis. He served in the United States Navy from 1943 to 1954 and saw active duty during World War II and Korea. After his discharge in October of 1954, he was in the US Naval Reserve until 1969 when he retired as a Lieutenant Commander.
On Feb. 4, 1956 he married Antoinette (Toni) Olwell and they had seven children, Kate, Toni, Pat, Anne Therese, Sloan, Megan, and Ben III.