Founder, Chairman & CEO, Mediacom Communications , 2011 Cable Hall of Fame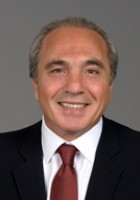 Rocco Commisso's illustrious career with the cable television industry spans more than three decades. He is currently the chairman and chief executive officer of Mediacom Communications Corporation, a company he founded in 1995 in the basement of his home to acquire and reinvigorate cable systems in the nation's underserved smaller communities. Together with his dedicated management team, Rocco took Mediacom public in 2000 and engineered its dramatic growth into the nation's 8th largest cable operator with annual revenues of $1.5 billion. With its corporate offices in Middletown, NY and 4,500 employees in 22 states, Mediacom is the leading provider of advanced broadband services to over 1.3 million customers in 1,500 small cities and towns across America.
Commisso began his business career at Pfizer Inc.'s manufacturing facility in Brooklyn, NY. After graduating from business school in 1975, he spent a decade in the financial community, initially at The Chase Manhattan Bank and then at Royal Bank of Canada, where he led the bank's U.S. lending activities to companies in the media and communications sectors. From 1986 to 1995, he served as executive vice president, chief financial officer and director of Cablevision Industries Corporation. During his tenure there, privately-held Cablevision Industries grew from the 25th to the 8th largest cable company in the nation, serving over 1.3 million customers at the time of its merger with Time Warner.
Commisso serves on the executive committees and board of directors of the National Cable & Telecommunications Association and Cable Television Laboratories, Inc. He is also on the board of directors of the National Italian American Foundation and C-SPAN and is a member of the Cable TV Pioneers. He is the recipient of the Ernst & Young Entrepreneur of the Year Award and the National Italian American Foundation Lifetime Achievement Award. In 2007, Commisso was inducted into the Broadcasting & Cable Hall of Fame. In 2008, he served as Co-Chair of the Cable Show, the industry's premier annual event. In 2009, he was the recipient of the Vanguard Award for Distinguished Leadership, the cable industry's highest honor, and Mediacom was named the nation's best cable company by CableFAX Magazine.
Born in Calabria, Italy, Rocco immigrated to the United States at age 12. He earned both a bachelor's degree in industrial engineering and a master's degree in business administration from Columbia University. While at Columbia, he was co-captain of the varsity soccer team and was elected president of the business school student body. In 2004, on the 250th anniversary of Columbia's founding, the school's daily newspaper listed Commisso as one of its 250 greatest alumni.