Chairman & CEO, Suddenlink Communications, 2014 Cable Hall of Fame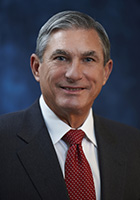 Jerry Kent is a serial entrepreneur and trailblazer who believes customer service is the key to his outstanding track record of delivering superior returns for investors.
In 2002, he co-founded Cequel III, a telecommunications company. As CEO, he has built several successful businesses, including Suddenlink, the seventh largest U.S. cable company.
Jerry began his career with Arthur Andersen in 1979. In 1983, he left to join Cencom, where he later became CFO. Cencom grew to 550,000 customers before being sold in 1991. After serving a year with Cencom's acquirer, Jerry co-founded Charter in 1993. Charter served over 1 million customers in 1998, when it was acquired by Paul Allen. Under Jerry's leadership, Charter grew to serve 7 million customers, consistently generated industry-leading operating results, and executed in Nov. 1999 what was then the third-largest IPO in U.S. history. Charter's was the best performing public cable stock from the IPO until the month Jerry left in Sept. 2001.
Jerry serves on the boards and executive committees of CableLabs and the NCTA. He is chairman of CablePAC and the Cable Center board and serves on the C-SPAN board. In 2011, he was named Multichannel News' Executive of the Year. In 2012, he was inducted into the Broadcasting & Cable Hall of Fame, received the cable industry's Distinguished Vanguard Award for Leadership, and was chosen Person of the Year by CED Magazine.
Jerry is also very active in the St. Louis community, serving on several boards, including Washington University, his alma mater; the St. Louis Children's Museum, the St. Louis Zoo, and REJIS.