Co-president and Co-Chief Operating Office, Viacom, 2005 Cable Hall of Fame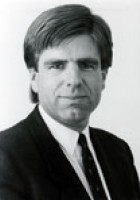 …when you find something that you really like you sort of stay with it, and this has been great because the job has changed every few years because the industry has been so dynamic. All of the sudden we're in international business, online business, new channels come our way or we buy them or launch them…
Tom Freston was named Co-President and Co-Chief Operating Officer of Viacom in June 2004. Previous to his appointment at Viacom, Mr. Freston served as Chairman and Chief Executive Officer of MTV Networks, a position he held since 1987. With Mr. Freston as CEO, MTV Networks grew to reach over 400 million households in 164 countries and 18 languages through 96 channels worldwide.
Mr. Freston's leadership produced many commercial and critical successes for MTV Networks, including: Nick Jr's "Blue's Clues," and "Dora the Explorer;" Nickelodeon's "Rugrats" and "SpongeBob SquarePants;" MTV's Emmy-winning "The Osbournes," and "The Real World;" Comedy Central's "Chappelle's Show" and the Emmy-winning series "The Daily Show with Jon Stewart"; VH1's "Behind the Music," Driven" and "I Love the 80s;" "Crossroads" and the "Flameworthy Video Music Awards" at CMT; "Joe Schmo" at SpikeTV, and TV Land and Nick at Nite's domination in the classic TV arena.
Mr. Freston joined Warner Amex Satellite Entertainment Company (WASEC), the predecessor to MTV Networks, in 1980. A year later, he was one of the founding members of the team that launched MTV: Music Television. As the head of marketing, Mr. Freston oversaw the breakthrough "I Want My MTV" campaign for the channel. He held a succession of positions at MTV Networks, culminating in his appointment in 1987 as CEO.
Prior to joining MTV, Mr. Freston established a textile and clothing business in New Delhi that he ran for eight years. He began his career in advertising after earning his B.A. from St. Michael's College and an M.B.A. from New York University.
Mr. Freston is on the board of the Museum of Natural History. He has served as Chairman at numerous organizations including Louis Vuitton United Cancer Front; the Actors Fund; Oceana; Natural Resources Defense Council; City of Hope and Phoenix House.
He is the recipient of several prestigious honors, among them, the Governor's Award from the National Academy of Cable Programming, MIPCOM's Personality of the Year, The Cable Television Public Affairs Association's President Award and the Humanitarian of the Year Award from the T.J. Martell Foundation.