Chairman and CEO, ARRIS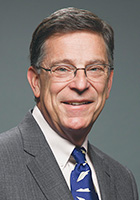 Robert J. (Bob) Stanzione is Chairman and Chief Executive Officer of ARRIS, a premier video and broadband technology company that transforms how service providers worldwide deliver entertainment and communications without boundaries. Its powerful end-to-end platforms enable service and content providers to improve the way people connect – with each other and with their favorite content. The Company's vision and expertise continue to drive the industry's innovations, as they have for more than 60 years.
In 1995, Bob was appointed President & CEO of ARRIS Interactive, LLC, a Nortel Networks/ANTEC joint venture. As ARRIS Interactive's first CEO, Stanzione grew the venture from a start-up company to the world market leader in cable telephony products. In 1998 he became President, Chief Operating Officer and a Director of ANTEC and was appointed to the CEO role on January 1, 2000. In 2001, ANTEC acquired Nortel's share of ARRIS Interactive and re-named the Company ARRIS Group, Inc. From 1969 to 1995, before joining ARRIS, Stanzione held a wide range of senior management positions with AT&T.
Bob holds a Bachelors degree in Mechanical Engineering from Clemson University, a Masters degree in Industrial Engineering from North Carolina State University and has completed executive development programs at the University of Richmond, Babson College and the International Institute for Management Development in Switzerland.
Bob is a Board Member of the National Cable & Telecommunications Association (NCTA). In June 2012, he was named to serve on The Cable Center Board of Directors. He served as a Director on the Board of Symmetricom, from May 2005 until December 2013. Bob was awarded the SCTE's Chairman's Award in 2008, the Vanguard Award for Associates & Affiliates in 2009, and was inducted into the Cable TV Pioneers in 2010.
Bob and his wife Kaye have three children and ten grandchildren.