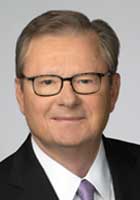 President and Chief Operating Officer, Charter Communications

John Bickham is known as one of the most influential Executives in the cable industry. Throughout the last 30 years, John's leadership has greatly benefited the companies he has served as well as those individuals who have had the opportunity to work with him.
John began his career in Cable in 1986 after a 13 year career at Houston Industries. Houston Industries created KBLCOM which partnered with ATC to purchase part of Group W Cable in 1986. John worked in this Partnership until 1989 when KBLCOM purchased Rogers Cable and John went to work at KBLCOM and eventually became its' President and COO. Houston Industries sold KBLCOM to Time Warner Cable in 1995 and John went to work for TWC eventually moving to the Corporate Office in 1998 as an Executive Vice President.
John left Time Warner Cable in 2004 to join Cablevision, reuniting with former (and current) colleague Tom Rutledge, the company's Chief Operating Officer at the time. At Cablevision, John quickly made a name for himself, playing a pivotal role in the strategy and development of Cablevision's triple-play offer. In the years that followed, Bickham led a streak of unprecedented customer growth and penetration increases across the company's video, voice and Internet platforms as the Company's President of Cable and Communications.
It was no surprise that in 2012, when Tom Rutledge was looking to hire Charter's new COO, John got the call. Since joining Charter, John has helped the company transition from bankruptcy to the fastest growing cable company in the nation. In July 2016, when transactions with Time Warner Cable and Bright House Networks closed, John was named President of the newly combined company.
"It is no accident that Charter has become the fastest growing cable company in the nation over the last several years under John's leadership. His operational expertise will continue to be invaluable to the company as we integrate three companies into one and bring the many benefits of the Charter strategy and the Spectrum brand to millions of customers" said Rutledge.