Former President, CEO, Scientific Atlanta, 2001 Cable Hall of Fame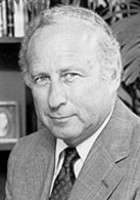 In running a company, you have to continually ask yourself, 'What business am I in? What is the purpose of my company?' Then you have to develop a business strategy that will make you a leader in that business.
For 40 years, Topol made his mark in telecommunications as an engineer, corporate executive and, most recently, as elder statesman. As Chairman of Scientific Atlanta, Topol was instrumental in forging the cable/satellite connection that triggered the growth of cable television in the United States. Topol also played a key role in the development of international telecommunications trade policies.
Topol began his career with Raytheon Co., where he eventually became general manager of Selenia telecommunications division, a joint venture in Italy. He returned to the U.S. in 1965 to head Raytheon's communications division until 1971. At Raytheon, Topol was involved in the development of electronic news gathering equipment, microwave systems, PCM, and the development and installation of 100 ft earth stations, which became the gateway for traffic to satellites and allowed live television coverage in the U.S. from overseas.
Topol served as president of Scientific Atlanta from 1971-83, CEO from 1975-87, and chairman of the board from 1978-90. During his tenure, the company grew in sales from $16 million to more than $600 million. During Topol's tenure the company developed the concept of cable/satellite connection, which, in working with HBO and transportable earth stations developed by TelePrompTer and manufactured by Scientific-Atlanta, established satellite-delivered television for the cable industry.