Founder, Chairman and CEO, Jones Intercable Inc., 2005 Cable Hall of Fame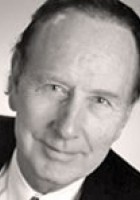 I prepared everything because I was my own account lawyer… so he signed that, and he gave me his account book which was a half-size, three-hole notebook with… the pages falling out of it… It was really a snowy day, and I was so happy I was yodeling… because now I was in the cable business.
Glenn R. Jones has spent four decades extending the reach of technology, first by bringing cable television to American homes, then by fusing education with the Internet to deliver education to lifelong learners worldwide. Along the way, Mr. Jones pioneered Internet technologies, authored several books, and created more than 20 technology companies in the Internet, e-commerce, software, education, entertainment, radio, and cable television industries.
In 1961, after graduating from the University of Colorado's School of Law, Mr. Jones began his career in cable television by representing cable companies in their acquisition efforts across the country. In 1967, Mr. Jones borrowed $400 against his Volkswagen to purchase his first cable system in Georgetown, Colorado, which was the genesis of his cable operations company, Jones Intercable, Inc.
During its 32 years under Mr. Jones' guidance, Jones Intercable pioneered more than a dozen industry firsts and grew to become one of the ten largest cable television operators in the United States serving more than 1.5 million customers nationwide. In addition, the company built and operated cable systems in the U.K. and Spain.
In 1987, Mr. Jones embarked on his first adventure in distance education and founded the cable network Mind Extension University (ME/U). Until the early 1990s, when it changed its name to Knowledge TV, ME/U delivered college courses to viewers' television sets, offering them easy access to distance learning programs. The advancement of Internet technology resulted in the creation of online education entities in the 1990s, most notably, Jones International University (JIU), a university existing completely in cyberspace, which he founded in 1995. In another Jones first, JIU was the first totally online university in the U.S. to receive accreditation.
Mr. Jones is one of the founding members of the James Madison National Council – a select advisory body to the Library of Congress – and serves on its steering committee. He is also on the board of trustees for the Denver Center for the Performing Arts, and the Voice Center Advisory Board associated with it. He is a past member of the board of directors for the National Cable Television Association (NCTA), and also served on its executive committee. Additionally, he served on the boards of C-SPAN, The Cable Center, the National Alliance of Business (NAB), the Colorado Institute of Technology (CIT), and the Board of Governors for the American Society for Training and Development (ASTD). He also served on the Colorado Governor's Commission on Science and Technology.