Retired President and CEO, Landmark Communications, Inc.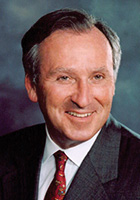 John O. Wynne is the retired President and Chief Executive Officer of Landmark Communications, Inc., which has interests in newspapers, broadcasting, cable programming and electronic publishing.
In 1997, Wynne received the NCTA Vanguard Award for Programmers and the Governor's Award from the National Academy of Cable Programming for "his leadership and insight in making The Weather Channel the preeminent provider of weather information, and one of the most innovative and popular networks on television…"
Wynne is Chairman of the Board, The Hampton Roads Community Foundation, and a member of the Board of Trustees, Princeton University. He is a Founding Member of the Hampton Roads Business Roundtable. He currently spends significant time on Reinvent Hampton Roads, an effort to strengthen Hampton Roads' regional economy; and on a state initiative, GO Virginia, which will encourage collaborations to strengthen the economy of every region of the Commonwealth.
Wynne serves as Vice Chairman on the State-appointed Council on Virginia's Future. He is a Member of the Virginia Business Higher Education Council. He has held numerous volunteer leadership positions with the University of Virginia, Princeton, and the state of Virginia, among others. He is a former Director and Executive Committee member of the National Cable Television Association and former Chair of the National Satellite Programmers Group.
Wynne received his BA from Princeton University and JD from the University of Virginia. Before joining Landmark, he was an attorney with Willcox & Savage. He and his wife, Susan, live in Virginia Beach and have two living children, four granddaughters and a grandson.