Chief International Correspondent and Anchor
CNN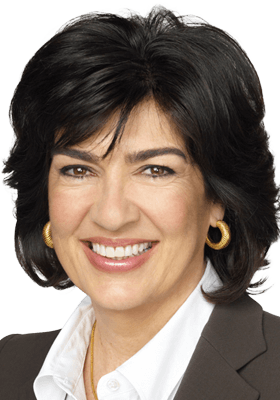 Christiane Amanpour is host of AMANPOUR and chief international correspondent for CNN International as well as the global affairs anchor at ABC News.  Her illustrious career in journalism spans three decades.  When she became an international correspondent for CNN in 1990, her first major assignment was covering the Gulf War.  She has since reported from the world's major hotspots, including Afghanistan, Iraq, Iran, Pakistan, Somalia, Israel, the Palestinian territories, Asia, Rwanda, the Balkans, and the U.S. during Hurricane Katrina.  She has interviewed most of the top world leaders over the past two decades, including securing the only interview with Hosni Mubarak and an exclusive with Muammar Ghadafi during the Arab Spring.
Amanpour has received every major broadcast award, including an inaugural Television Academy Award, eleven News and Documentary Emmys, four George Foster Peabody Awards, and nine honorary degrees.  She is a member of the American Academy of Arts and Sciences, and a Commander of the Most Excellent Order of the British Empire and an Honorary Citizen of Sarajevo.  Amanpour is a graduate of the University of Rhode Island.