Former President and CEO, Viacom Cable, 2004 Cable Hall of Fame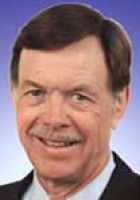 While attending the University of California, I was involved in a partnership with Scot Bergren, Claude Cody and Dick Spight, and obtained the franchises and built the systems in Pinole and Crockett, California. These systems (became) part of Tele-Vue.
John Goddard was the former President and CEO of Viacom Cable, spending over twenty-five years with the company. He started in management positions in Viacom's predecessor companies; Tele-Vue Systems, Inc. in 1966 and CBS in 1969. Mr. Goddard became Executive Vice President of Viacom Cable in 1978 and President and CEO from 1980
Mr. Goddard has served in numerous leadership positions in cable industry organizations: President and Director of the California Cable Television Association (CCTA), Chairman and Director of the National Cable Television Association (NCTA), Director and Chairman of the California Channel, and Chairman, Interim President and Trustee of the Walter Kaitz Foundation, and Director of C-SPAN and Cable in the Classroom. He currently serves as a Director of CableLabs and Chairman of its audit committee. He is also a member of the Cable Television Pioneers.
Mr. Goddard has previously served as a director of StarSight Telecast, Inc., ZDTV, Diva Systems Corp., Liberty Satellite and Technology, Inc. (and its predecessors: Primestar, Inc., and Tele-Communications Satellite and Technology, Inc.). He is currently a director of Bend Cable Communications, LLC and Cedar Point Communications.