Chairman, Evolution Digital, 2013 Cable Hall of Fame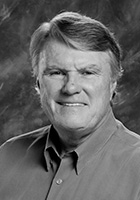 John M. Egan is Chairman of Evolution Digital, LLC, the fastest growing provider of digital solutions for bandwidth reclamation and advanced set-top boxes. Evolution Digital, LLC was formed to provide cost-effective solutions for small-to-medium size cable operators to stem the loss of subscribers to DBS and Telco competition. Egan has been instrumental in strategizing with cable operators using Evolution Digital's DTAs. Operators can reclaim analog bandwidth and use that additional bandwidth to enhance their HD and high-speed data offerings. Once momentum is regained, Evolution Digital provides products to win back lost market share and prepare the market for next generation, "over-the-top" content with ever increasing ARPU as TV and high speed data merge.
Egan, a 35 year cable veteran and Cable Pioneer, retired as Founder, Chairman and CEO in 2002 of ARRIS, a global communications technology company specializing in the design and engineering of broadband local access networks and a leading developer, manufacturer and supplier of optical transmission, cable technology and internet access, outside plant construction and maintenance equipment for cable system operators.
Originally a division of Anixter, the company was separated in 1991 and Egan took the new company ANTEC Corporation, public in a highly successful offering in 1993. (NASDQ – ARRS)
Under Egan's leadership, ANTEC pioneered development of optical products for the cable television industry in 1988 with the introduction of its Laser Link line of optical transmitters and receivers, which were co-developed with technology over Hybrid Fiber Coaxial systems. Egan entered into a Joint Venture (Arris Interactive) with Nortel networks. In 2001, ANTEC purchases Arris Interactive, and changes its name to ARRIS. With the acquisition of Cadant in 2001, ARRIS became the only company able to provide CableLabs® DOCSIS™ 1.1 qualified CMTS and certified high-speed data and IP Telephony solutions.
In addition to his role as Chairman of ARRIS, Egan served on the Board of the National Cable Telecommunications Association for over 10 years, Walter Kaitz Foundation and is activity involved in many other industry organizations.
During his retirement, Egan served on the advisory board of KB Partners, a Chicago-based Venture Capital firm. He is also a former board member of Alaska Communication Systems, a NASDAQ traded company, the largest telephone company in the state of Alaska. In December 2003 he was named a trustee of U.S. Ski and Snowboard Team Foundation, where his proficiency in the communications industry will be a valuable resource for the Foundation and the U.S. Ski and Snowboard Association.
Egan splits his time between Beaver Creek, Colorado, and Clearwater Beach, Florida, where he is an avid skier and golfer.
Prior to joining Anixter in 1973 as Eastern Regional Sales Manager, Egan was a Marketing Executive with Anaconda Electronics, developer of the first micro circuit amplifier in the cable industry. He started his career as a salesman for RCA Computer Systems Division in New York City. In 1980, he was appointed President of Anixter Communications, and by 1988, Anixter revenues exceeded $1 billion serving the local area network, telephone and cable TV markets.
Egan is a graduate of Boston College with a BS degree in Economics. John and his wife, Lynn, have two children, John Jr. and Chris and 6 grandchildren.
Prior to his business career, Egan played professional football with the Miami Dolphins.