President & CEO, Liberty Latin America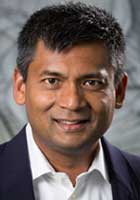 Balan Nair is president and Chief Executive Officer of Liberty Latin America. Liberty Latin America is an integrated telecommunications company, focused on the Caribbean Islands and Latin America.
Balan is an experienced and proven business executive with more than 20 years in the telecommunications industry. He has been a part of the Liberty family of companies since 2007, when he joined Liberty Global as its Senior Vice President and Chief Technology Officer. He most recently served as Executive Vice President and Chief Technology and Innovation Officer. In this role, he was responsible for overseeing Liberty Global's worldwide network, as well as Technology and Innovation operations, including Product Development, IT, Network Operations, Mobile Operations and Global Supply Chain functions. He was also responsible for Corporate Strategy and Venture investments. Balan was an executive officer of Liberty Global and sat on Liberty Global's Executive Leadership Team and the Investment Committee.
Prior to joining Liberty Global, Balan served as Chief Technology Officer and Executive Vice President for AOL LLC, a global web services company, from 2006. Prior to his role at AOL LLC, he spent more than 12 years at Qwest Communications International Inc., most recently as Chief Information Officer and Chief Technology Officer.
Balan has a long history of working in the telco industry, the web world and now the cable and media industry. He sits on the boards of Charter Communications, a leading cable operator in the United States, Liberty Latin America and Adtran Corporation. He graduated from Iowa State University, with a Masters in Business Administration and a Bachelor of Science in Electrical Engineering. He holds a patent in systems development and is a Licensed Professional Engineer in Colorado.