President and CEO, The Lenfest Group, 2012 Cable Hall of Fame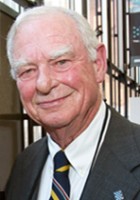 Following graduation from Columbia Law School, Mr. Lenfest practiced law with Davis Polk & Wardwell before joining Walter Annenberg's Triangle Publications, Inc., as Associate Counsel. After five years, Mr. Lenfest was placed in charge of Triangle's Communications Division, consisting of SEVENTEEN magazine and Triangle's CATV interests. In 1974, Mr. Lenfest left Triangle and formed Lenfest Communications, Inc., to purchase a cable system from Triangle with a total of 7,600 cable subscribers. In January 2000, its ownership of 1.3 million subscribers was transferred to COMCAST.
Since the sale of Lenfest Communications, Mr. Lenfest has established himself as a dedicated supporter of education and the arts. He served as Chairman of the Board of the Philadelphia Museum of Art, and as a Trustee of Washington and Lee University. He currently serves as Chairman of the James Madison Council of the Library of Congress, the Curtis Institute of Music, and the American Revolution Center, and as a Trustee of Columbia University. He has been recognized for his service and philanthropy with awards such as the Governor of Pennsylvania's "Patron of the Year" Award, the Philadelphia Award, the Pennsylvania Society's Gold Medal for Distinguished Achievement, and the Officier of the Ordre National de la Légion d'honneur from the French Republic.
He has received Honorary Doctor of Humane Letters from Columbia University, Temple University, Ursinus College, Washington and Lee University, and Widener University. Mr. Lenfest and his wife, Marguerite, live in Huntingdon Valley, Pennsylvania, and they have three children and four grandchildren.