Board of Directors Member at CTAM Europe, 2009 Cable Hall of Fame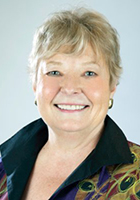 Char Beales is President and CEO of CTAM, Cable & Telecommunications Association for Marketing, The 5,200 individual and 90 corporate member professional service organization. CTAM provides its members with a full slate of conferences, specialized publications, targeted research and a network of chapters.
Prior to joining CTAM, Beales was Vice President of Program Development for COMSAT's Video Enterprises, a division that provided satellite delivered pay per view programming to the U.S. lodging industry. Beales served as Vice President of Programming and Marketing for the National Cable Television Association and Executive Director of the National Academy of Cable Programming which sponsored the CableACE Awards. Beales has also served as the senior research executive at television stations owned by NBC and CBS and a media buyer at J. Walter Thompson.
Char Beales serves on the Boards of The Cable Center and the Cable and Telecommunications Human Resources Association (CTHRA). In 1996, Beales received the National Cable Television Association's Distinguished Vanguard Award for Leadership. She has been honored with the NCTA's Vanguard Award for Marketing in 1995, the President's Award in 1990, the Cable Academy's special ACE Award, the CTAM's Chairman's and TAMI Awards for volunteer service. Char Beales served as a member of the Advisory Council for the Independent Television Violence Assessment Study from 1995 to 1998. Beales is a communications graduate of George Washington University in Washington, D.C.