Retired, CEO , Cox Communications Inc., 2006 Cable Hall of Fame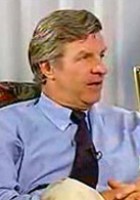 Jim Robbins served as president and chief executive officer of Cox Communications, Inc., the nation's third largest broadband company, for 20 years, guiding the company to becoming a multi-service, broadband communications powerhouse.
During his tenure as CEO, Robbins quadrupled the size of the company while instilling a keen focus on operational excellence, customer satisfaction, people development and technological innovation. He has been hailed as a visionary for his early leadership on quality customer care and for the foresight to build a robust network, which paved the way for the company's entrance into lucrative new businesses such as telephony and high-speed Internet. He is a respected leader in the cable industry, serving twice as chairman of the National Cable Telecommunications Association and winning multiple awards, including the industry's Vanguard Award for Distinguished Leadership in 1996.
Under Robbins' leadership, Cox Communications won the J.D. Power Award a precedent-setting five times for customer satisfaction in cable and telephone services; was recognized as the industry's best operator three times; and was named the best operator for women three consecutive years. In March 2006, along with Cox Communications, Robbins was presented with Cable Positive's highest honor, the Joel A. Berger Memorial Award, for outstanding contribution to the fight against HIV/AIDS, and in October 2006, he will be inducted into the Cable Television Hall of Fame.
Robbins joined Cox Communications as vice president of the company's New York City operations in 1983, and was promoted to senior vice president of operations in Atlanta. He was named president in 1985 and added CEO to his title in 1995 when the company went public. He retired at the end of 2005. Prior to joining Cox Communications, he served as senior vice president of operations for Viacom Communications, Inc., following his role as vice president and general manager for Viacom Cable of Long Island, NY. From 1972 to 1979, he served in various management positions for Continental Cablevision of Ohio Inc., and Montachusett Cable Television. Previously, he was managing editor of WBZ-TV News in Boston.
A graduate of the University of Pennsylvania with a B.A. in American Studies, Robbins also holds an M.B.A. from Harvard University. He served as a destroyer line officer and a gunboat flotilla public affairs officer during two tours of duty with the U.S. Navy in Vietnam from 1965 to 1967.
Robbins currently serves on the Board of Directors of Cox Enterprises, Inc.; Bessemer Securities, Inc.; and Humana, Inc.; and on the Board of Trustees of the STI Classic Funds, Inc., a mutual fund affiliate of SunTrust Banks, Inc. He also serves as Senior Advisor to Providence Equity, and is President of the Board of Trustees of St. Paul's School, Concord, New Hampshire. Previously, he has served as Chairman of the Board of the Juvenile Diabetes Research Foundation, Inc.