Former Chairman and CEO, Continental Cablevision, 1999 Cable Hall of Fame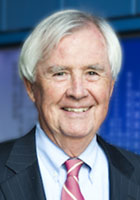 [cable] is one important tool in the telecommunication process which can help us both find new combinations to answer existing educational and social needs. We should get on with the business of doing just that.
Amos Hostetter was working in investment banking when he met broker and cable industry pioneer Bill Daniels in 1962. Both were assisting with a system acquisition in Keane, NH. Not long after that meeting, Hostetter decided to become an operator himself. In 1963, he convinced Harvard classmate Irv Grousbeck to join him, and the two pored over U.S. broadcast signal maps to find markets that might be receptive to cable systems. Grousbeck visited several small Ohio towns before settling on Tiffin and Fostoria. The partners later moved there, personifying what would become a Continental Cablevision trademark: decentralized management that sought to make decisions as close to the customer as possible.
Continental Cablevision's initial growth came through winning rural and suburban franchises. The company designed and constructed more than 90 percent of the systems it operated and later accelerated its growth through acquisitions, including the systems owned by McClatchy Newspapers, the Providence Journal Co. and American Cablesystems.
While subscriber ranks swelled, Hostetter maintained his individualistic, iconoclastic approach. He kept the company private, buying back a stake previously sold to Dow Jones. Grousbeck left in 1980 to teach at Harvard (and now teaches at Stanford). Continental never abandoned its guiding principles of decentralized management.
After maintaining Continental's fiercely independent status for more than 30 years, Hostetter engineered its 1996 sale to MediaOne for $11.7 billion. It made him one of America's richest men and turned 80 of his long-term employees into millionaires, but after MediaOne went back on its pledge not to move its headquarters from Boston to Denver, Hostetter quit in anger. "I did business until I was 61 years old on a handshake and my word," he told a friend. "It took me until this to be undone by it. I was so angry I was cross-eyed."
Now with his AT&T alliance to purchase MediaOne, Hostetter has returned triumphant. "Nice guys don't always finish last. They can come back and finish first, and maybe that's the lesson of the AT&T deal," says Jim Robbins, president and CEO of Cox Communications, who worked at Continental from 1974 to 1979.
Although the MediaOne fracas sidelined him from cable's day-to-day activities for more than a year, Hostetter has reveled in the opportunity to spend more time with his wife and three children.
In additions, Hostetter contributes generously but anonymously to a number of charitable and educational organizations.
With Hostetter in the industry as non-executive vice chairman of AT&T Broadband & Internet Services, it's plain that many of his peers are quietly gratified, not only at his victory in regaining his company, but at their industry's reunion with one of its most effective leaders.