Founder, California Cable Television Assoc., 2003 Cable Hall of Fame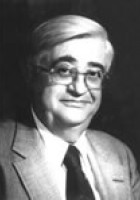 The Walter Kaitz Foundation was established in 1983 to provide diversity within the cable industry. It was named in honor of Walter Kaitz, who as a leader of the California Cable Television Association recognized the importance of diversity. Walter Kaitz recognized that in order to continue competing in the global marketplace, the cable industry needed to build a management team reflective of the steadily growing diverse U.S. population. (From the Walter Kaitz Foundation website)
As an immigrant from Russia, Walter Kaitz was always sensitive to the America's promise as a land where everyone should have a chance to prosper. His connection with the cable industry began in the 1960s, as he worked on cable franchise legislation. When the need for a state association became apparent, Walter Kaitz was hired as general counsel for the California Cable Television Association (CCTA).
During the 1960s and 1970s Walter Kaitz built what is generally considered the model state cable with CCTA, melding the different cable companies in the state into a working coalition able to present cable's case to both government and the public. Under his direction, the association was able to persuade the Californian State Legislature to pass landmark legislation governing the cable industry and protecting operators from unreasonable increases in pole attachment rates. He also played a key role in national debates over cable, helping to educate and influence California members of the U.S. House and Senate about cable issues.
In addition, under his direction, CCTA's Western Show grew to be second only to the NCTA convention as the largest and most important cable industry show.
Walter Kaitz died on December 30, 1979 and was succeeded by his son Spencer as leader of the CCTA. Financial contributions, given in honor of Walter, formed the basis of the Walter Kaitz Foundation. Initially, activities were driven only by the desire to do something to honor the memory of Walter, but by 1981 a focus developed. Gwen Moor, the cable industry's first ethnic minority chair, was interested in developing opportunities for more minorities in this growing industry – opportunities that would come from the cable industry's efforts to try to integrate from within, rather than being foisted on the industry. With the assistance Spencer received from of the founding members including Don Anderson, Ralph Baruch, Ray Joslin and Paul Maxwell the mission of the Foundation was borne. The cable industry embraced the concept that those in its executive suites should mirror its customers, and Spencer strongly agreed.