President, Brand Outreach, Scripps Networks, 2008 Cable Hall of Fame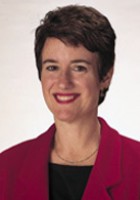 Susan E. Packard is responsible for aligning corporate citizenship activities with the business agenda of Scripps Networks, a division of E. W. Scripps. Her work maximizes the value of the lifestyle brands to the parent company, clients and to the consumer. The brands include HGTV, Food Network, DIY Network, Fine Living TV Network and Great American Country (GAC).
Susan was cofounder of HGTV and served in many leadership roles, including chief operating officer. She also served as president of Scripps Networks New Ventures, where she oversaw the development and launch of DIY Network and Fine Living. Prior to her current post, she was president of worldwide distribution for the Scripps cable brands.
Susan began her cable career at HBO then moved to NBC to help found CNBC. She brought her extensive experience to an unheard of idea – a cable TV network devoted entirely to homebuilding, remodeling, gardening and decorating – presented in an entertaining way. Under Packard's helm as chief operating officer, HGTV became one of the fastest growing cable networks in television history. Today HGTV is available in more than 95 million U.S. homes and distributed in 170 countries and territories. Susan helped to build Scripps Networks to a market value of over $6 billion.
Susan has been recognized by industry peers, colleagues and employees as an innovator, pioneer, role model and mentor. She received the Woman of the Year award by Women in Cable & Telecommunications (WICT) and was profiled in Modern Visionaries, a book chronicling the contributions of women to the cable and telecommunications industry. Contemporary Economics, a high school textbook, profiled her as an entrepreneur in the field of media specialization. Cablevision magazine cited her as one of "12 Most Powerful Women in Cable," and CableWorld magazine honored her among "The Most Influential Women in Cable." Most recently, she was the recipient of the 2007 YWCA Tribute to Women Award in the business and government category.
In 2004 she became the first woman elected to serve on the board of directors of Churchill Downs, Inc. (the Kentucky Derby).
Susan is active in national and local business and community affairs, and received the E.W. Scripps William R. Burleigh Award for distinguished community service. She serves on the executive committee of the Denver-based Cable Center board of directors; is the immediate past chair of the East Tennessee YMCA board of directors; serves on the board of an independent collegiate day school; lectures at universities; and is an advisor on children's healthcare issues and job training programs for the homeless.
Susan Packard lives in Knoxville, Tennessee, with her husband and son.