Co-Founder and former President, NCTA, 1998 Cable Hall of Fame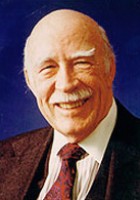 Word got around about what I was doing and people started coming in the store and offering me money and asking, 'How much do you want to hook me up to this system that you have?' I realized, that it was a system that could be sold.
Martin Francis Malarkey had begun his career following naval service in World War II. He worked in his father's store, Malarkey Music Co., selling pianos, violins and other instruments along with radios, phonographs and TV sets. On a buying trip to New York, he stayed at the Waldorf-Astoria Hotel and was amazed by the crystal clear pictures coming out of the TV set in his room. The cord coming out of the TV set also fascinated him. It wasn't the usual flat twin lead, but instead was round and covered with black vinyl. He called the front desk and minutes later, the hotel engineer was giving him a guided tour of his master antenna system, which served 500 rooms and would soon add 500 more.
He approached RCA, which had built the Waldorf system, about providing a similar setup for Pottsville. Before long, his system was up, running and impressing the customers who came into his store.
Over the next few years, Malarkey would build six additional systems, in cities including Harrisonburg, VA., Altoona, PA. and Wilmington, NC. His work for the National Cable Television Association (NCTA) took him often to Washington, a city he loved instantly. Before long, he'd moved his home and business headquarters there.
Malarkey built the NCTA steadily into a larger organization, adding members and gradually expanding the group's annual meeting. "He was just a helluva persuasive guy," recalls Al Warren, president of Warren Publishing Inc., and a long-time friend. "He was gregarious and warm. He exuded friendliness and good natured humor. He was an exceptional man."
By 1960, at the age of 41, Malarkey had sold four of his cable systems and achieved a childhood dream: he'd earned enough to retire. So he did.
After realizing retirement wasn't for him, he opened a one-man consultancy in 1961 and ran it until about 1963, when he partnered with ABC Inc. in a venture that aimed to acquire a group of cable systems. After more than a year, ABC decided it didn't want to enter cable system ownership and bought Malarkey out of his investment in the project.
It was then that he convinced Archer Taylor, a respected engineer he'd recruited for the ABC project, to join him in creating a bigger consultancy which became Malarkey-Taylor Associates (MTA).
As the franchise wars broke out during the 1980s, MTA expanded, becoming extremely active in helping major operators compete for the right to wire major cities of the United States. By 1985, it was also providing research, marketing and advertising services. It opened an office in London and completed projects for a number of overseas countries and companies.
In 1987, MTA acquired Economic and Management Consultants International (EMCI), a company that would bring expertise in wireless telecommunications, paging, private radio and cellular services. Andrew Roscoe, who had founded EMCI, stayed on to manage that part of the company, and in 1992, led a management buyout of MTA, renaming it MTA-EMCI.
Malarkey continued his active lifestyle, jogging and swimming laps to stay fit and holding court at lunch with Washington's power brokers in the city's finest restaurants. He never lost his trim, athletic appearance.
From the beginning, Malarkey knew cable would be more than just a way for people in a hilly environment to get TV channels.