President and CEO, Rogers Communications Inc., 2002 Cable Hall of Fame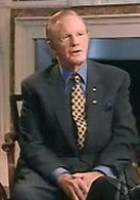 I think the cable business and the broadcasting business are very much like what we're talking about, the band business. Finding needs, making people happy, making them laugh, entertaining them.
Born in Toronto, Ontario, Canada in 1933, Edward S. "Ted" Rogers has carried the Rogers' name into the new millennium with the same spirit of inventiveness and passion handed down from his father – one of the great and celebrated inventors of his time.
Even in his early teenage years, Ted Rogers was already demonstrating a strong entrepreneurial spirit: while studying at Upper Canada College Preparatory School in the early 50's, the young Rogers climbed onto the roof of his dormitory, constructed a primitive television antenna and aimed it towards Buffalo, NY. He then charged his classmates admission to come into his room and watch television.
In the 1960's during his employment with the Toronto law firm Torys LLP, Rogers first began Rogers Radio Broadcasting Limited, buying Canada's pioneer FM radio station – CHFI-FM – in Toronto. That division has expanded today to include 43 radio stations, an electronic home shopping channel, 2 multi-cultural television stations, ownership in 6 cable programming services, 21 consumer magazines and 45 trade and professional publications as well as ownership of two time baseball World Series winners The Toronto Blue Jays as well as their home stadium The Rogers Centre.
By the early 1970's, he had founded Rogers Cable TV Limited and spent the next decade expanding his company's capabilities and customer base. Through a series of acquisitions over the next decade, Rogers formed Canada's largest and most powerful cable telecommunications operations. Its hybrid fiber-coax network is ideally suited to delivering interactive products and services that require significant bandwidth, such as its high-speed Internet access service. Rogers Cable also owns and operates 274 Rogers Video stores.
In the mid-80's his company Rogers Wireless Communications Inc., entered the cellular phone business and today has more than 5.5 million wireless subscribers, is Canada's largest national wireless company and is the country's only carrier operating on the world standard GSM/GPRS technology platform.
Ted Rogers serves as a board member of Cable Television Laboratories, Inc. and The Cable Center. Among his many leadership and civic awards are his Order of Canada Award in 1990, his induction into the Canadian Business Hall of Fame in 1994 and into the Canadian Association of Broadcasters Hall of Fame in 1998.