Founder, Columbia Cable Systems, 2000 Cable Hall of Fame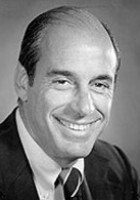 Once you've been in our business you have this feel, this smell, of being an individual, an entrepreneur. Not being overpowered by anybody. You don't want to lose that. That's the beauty of our industry.
In 1953, Robert Rosencrans entered the television industry and produced and distributed live television events to theaters and hotels through Box Office Television and later the TelePrompTer Corporation.
While planning the distribution of a heavyweight championship fight in 1956, Rosencrans granted a license to cable pioneer Bill Daniels to deliver the live event to his cable subscribers in Casper, Wyoming. The initial agreement with Daniels provided a first for the cable industry and shortly thereafter TelePrompTer acquired several cable systems and soon became a major player in this new industry.
In 1961, Rosencrans formed Columbia Cable Systems and acquired systems in Washington, Oregon, Arizona and California. In 1969, with a total of 30,000 subscribers, Columbia added other systems to its group and reached the 250,000 level though a combination of mergers and acquisitions.
In the early 1970's, Columbia began franchising in the Northeast and simultaneously used new programming offerings to attract subscribers who had adequate off-air service. Using HBO as its pay service and live sports events from Madison Square Garden, Columbia successfully franchised many contiguous communities in Northern New Jersey and Westchester County as well as San Antonio, Texas. The company's subscribers continued to develop internally as new systems were activated and supported by an array of new basic cable programming services as well as pay cable.
In the spring of 1975, Jerry Levin, who headed HBO, asked Rosencrans if Columbia would install an Earth Station in one of their systems to receive a satellite feed of the Ali-Frazer Heavyweight Championship fight originating in Manila on September 30th. Rosencrans agreed to the installation of the industry's first receiving satellite dish at its system serving Vero Beach and Ft. Pierce and simultaneously announced the planned installation of dishes in all of its largest systems. The satellite delivered signal proved to be an extraordinary success from both a technical and operational standpoint and overnight dramatically enlarged the range of the cable industry which suddenly had the capability to receive new programming at any location in a cost effective manner and deliver high quality pictures.
With HBO and then Showtime utilizing satellites to deliver their pay cable services, Columbia, in 1977, embarked on a venture to offer satellite delivered basic cable programming to the industry by joining with Madison Square Garden to distribute its live events. The Madison Square Garden Network, later renamed the USA Network, was the first proprietary satellite basic cable network and created the format for the multitude of basic cable networks that followed.
As the network expanded, the Cable Satellite Public Affairs Network formed by Brian Lamb with live carriage from the US House of Representatives was carried on the MSG network. Rosencrans became the founding chairman of C-SPAN which later expanded its offerings and required its own full time satellite carriage. Rosencrans also provided space to inaugurate Bob Johnson's BET Network which later became a full time service. Columbia Cable, with over 500,000 subscribers, was sold in 1981 to UA Theaters and Rogers Cable of Canada.
In 1984, Rosencrans, with several former associates, formed Columbia International and acquired and developed major systems in Virginia, Michigan, Oregon, Washington and Nevada. Columbia sold its operations to TCI, Cox and Jones in 1996. Rosencrans remained active in the industry as Chairman Emeritus of C-SPAN and was elected to the Cable Hall of Fame in 1999.