Founder and former President, USA Networks, 2001 Cable Hall of Fame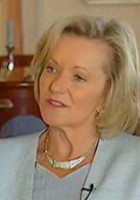 I like to think of myself as a visionary actually. I like to look at what isn't there and imagine what could be there… it's great to be a pioneer but I think that for those of us who are out on the edge, we don't think of ourselves as pioneers. We think of ourselves as futurists, because that's what attracts us.
Kay Koplovitz is the founder of USA Networks and the first female network president in television history. Under her direction, USA developed into the largest provider of original programming among basic cable networks. She was the first to negotiate the national cable rights to major league sports and engineered the acquisition of top off-network series and high profile theatrical movie packages on a pre-syndication basis. In 1989, USA Network became the first basic cable network to feature regularly scheduled original movies and has developed the USA Pictures Original movie brand into one of the most successful and recognizable on television.
In 1992, Koplovitz launched the Sci-Fi Channel, which has become one of the industry's fastest-growing networks. In April 1994, she launched USA Networks International, which now operates channels in Latin America, Europe, Brazil and Southern Africa. In 1998 she founded Koplovitz & Company, LLC, a media investment firm specializing in new media investments.
Koplovitz was appointed by President Clinton to chair the National Women's Business Council, an influential advisory board for women-owned businesses. She is also a member of the corporate boards of Oracle, Inc., Nabisco Holdings Corp., Inc., Liz Claiborne and FirstSource.com. Additionally, Koplovitz serves on the Board of Trustees for the Museum of Television and Radio, the International Tennis Hall of Fame and the Central Park Conservancy.
In November of 1999 she joined the Board of Working Woman Network and became Chief Executive Officer as of January 1, 2000. She is leading the transformation of the women's business brands, Working Woman and Working Mother, into a super global brand of goods and services designed to serve the fast growing sector of career committed entrepreneurial corporate and professional women.
Working Woman Network (WWN) possesses the leading brands in the women's business market serving the nearly 60 million working women of America and millions more worldwide. The Company recently announced a new initiative to create the global web based Vortal (vertical portal) to provide tools, applications, knowledge, opportunity and community to this large and fast-growing market.
WWN is a new company formed by the acquisition of the brands and content assets of MacDonald Communications Corporation and its subsidiaries. Included in the properties are Working Woman and Working Mother magazines with a subscription base of 1.6 million and monthly readership of 6 million. Additionally the company owns the National Association for Female Executives (NAFE), the highest membership organization with over 150,000 registrants, and the Businesswoman's Research Institute (BRI), which provides data on the emerging women's business market.
Koplovitz holds a Master's degree in communications from Michigan State University. She is also a Phi Beta Kappa graduate of the University of Wisconsin. A native of Milwaukee, Wisconsin, Koplovitz is married to private investor, William C. Koplovitz, Jr.