Former Director, Time Warner, Inc., 1999 Cable Hall of Fame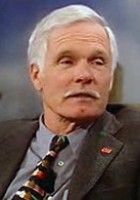 …at the very beginning I figured that cable was going to be good for me as a UHF television operator so I decided to throw my lot with cable early and then I would provide good programming…
Throughout his career, Ted Turner has won recognition for his entrepreneurial acumen; sharp business skills; a vision that transformed television; leadership qualities that won sports championships; and his unprecedented philanthropy.
Turner is a member of the Time Warner board of directors and the founder of Turner Broadcasting System, Inc. He began his career as an account executive with Turner Advertising Company and entered the television business in 1970 when he acquired Atlanta independent UHF station channel 17. In 1976, Turner purchased Major League Baseball's Atlanta Braves and launched TBS Superstation, originating the "Superstation" concept. The following year, Turner Broadcasting System, Inc. acquired the National Basketball Association's Atlanta Hawks, and in 1980 Turner launched CNN, the world's first live, 24-hour global news network.
Over the next two decades, the company built a portfolio of unrivaled cable television news and entertainment brands and businesses, including CNN Headline News, CNN International, TNT, Cartoon Network and Turner Classic Movies. In the mid-'90s, Castle Rock Entertainment and New Line Cinema became Turner Broadcasting properties. In October 1996, the company merged with Time Warner Inc., and in 2001, Time Warner merged with AOL to create AOL Time Warner. The company later changed its name back to Time Warner Inc.
Turner has also made his mark as one of the most influential philanthropists in the U.S.
He is the Chairman of the Turner Foundation, Inc. founded in 1990, which supports efforts for improving air and water quality, developing a sustainable energy future to protect our climate, safeguarding environmental health, maintaining wildlife habitat protection, and developing practices and policies to curb population growth rates.
The Turner Endangered Species Fund is a core grantee of the Turner Foundation, which works to conserve biodiversity by emphasizing restoration efforts of endangered or imperiled species on the Turner properties.
In September 1997, Turner announced his historic pledge of up to $1 billion to the United Nations Foundation (UNF). The organization supports the goals and objectives of the United Nations to promote a more peaceful, prosperous and just world. UNF has identified four core priorities: women and population; children's health; the environment; and peace and security. Originally to be awarded over 10 years, Mr. Turner's historic gift was intended to inspire an international spirit of participation and philanthropy. At a commemorative luncheon in December 2002 celebrating the 5th year anniversary of Turner's pledge, the UN Foundation Board of Directors agreed to extend the life of the Foundation an additional five years.
In early 2001, Turner launched the Nuclear Threat Initiative (NTI), a foundation he co-chairs with former Senator Sam Nunn. NTI is working to close the growing and increasingly dangerous gap between the threat from nuclear, chemical and biological weapons and the global response.
Turner later created two independent film production companies, Ted Turner Pictures and Ted Turner Documentaries, which produced the major motion picture Gods and Generals and the critically acclaimed PBS documentary Avoiding Armageddon respectively.
Through Turner Enterprises, Turner manages the largest commercial bison herd in North America, which is spread amongst his 14 ranches in Colorado, Kansas, Montana, Nebraska, New Mexico, Oklahoma, and South Dakota.
In January 2002, Turner opened the first Ted's Montana Grill in Columbus, Ohio with his partner, George W. McKerrow Jr., founder of the Longhorn Steakhouse chain. Ted's Montana Grill offers classic American comfort food, including bison or beef burgers, in an authentic Montana bar and grill atmosphere. Ted's Montana Grill operates more than 40 restaurants nationwide.
Turner also enjoys several outdoor sports, especially hunting and fishing.