Founder, Jerrold Electronics, 1998 Cable Hall of Fame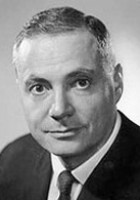 (Our) package where we'd sell a complete system and train their personnel…is really what got Jerrold going. We became the leader in the business because we were the only ones supplying field engineers to put the systems in and train the people.

Milton J. Shapp
During the 1950s and 1960s, Milton Shapp's Jerrold Electronics dominated the cable industry, producing the first equipment designed specifically for community antenna systems and partnering with scores of operators in launching new systems. From a basement workshop and an investment of $500, Shapp would build a career that also included vendor financing of cable systems and, one of his specialties, politicking.
In the early 1930's, Shapp worked as a sales rep for a radio parts manufacturer. With a colleague, he later went out on his own, representing a number of electronics parts manufacturers throughout the Midwest. He moved to Pennsylvania in 1936 to concentrate on the east coast market, and expanded his representation again to include other lines of transformers and condensers.
World War II interrupted Shapp's burgeoning rep business for a time, but by 1948, Jerrold Electronics Corp. was up and running, having expanded its product lines to include a small black box that enhanced TV set reception.
The booster later evolved into a master antenna system that allowed retail stores to show more than one TV set working at a time. Shapp discovered that the same system could work in apartment complexes and some of Jerrold's customers were tinkering with adapting the system to serve other purposes.
Shapp wanted to own cable systems as well as supply them with equipment. Gradually, Jerrold's cable systems multiplied, as Shapp offered newcomers wanting to enter the community antenna business assistance in building and managing their systems. Jerrold supplied engineering and operational expertise in return for a 49-percent share of ownership in the system.
In 1967, Shapp sold the company that would be acquired the following year by General Instrument. After an unsuccessful first run, he won election to the governorship of Pennsylvania, exchanging his business gains for a salary of $40,000 and later $60,000 a year. He served two terms and in 1976, made an unsuccessful bid for the Democratic presidential nomination.