Co-Founder, and former President
Comcast Corp.
2002 Cable Hall of Fame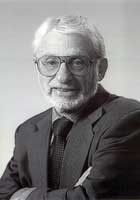 We had prepared a map on which 526 pins located each of the nation's cable systems. As we carried this six foot exhibit into the (Senate Communications Committee) hearing room, we brushed against the doorway and most of the country's cable systems wound up on the floor…we scurried about the hearing room for a frantic half-hour picking pins off the floor in a mad scramble to resurrect the cable industry.
In 1963, Aaron was one of three founders of Comcast Corporation, which is today the nation's largest cable operating company. Using his background in economics (he holds a master's degree in Economics from the University of Pennsylvania) he handled all of Comcast's acquisitions and operations and focused his energies on regulatory and legislative issues affecting the cable industry. He is credited with paving the way for the 1984 Cable Act.
A member of the Cable Television Pioneers, Aaron also served on the board of NCTA for nearly 20 years, served as NCTA's chairman in 1977-78, and has received numerous industry awards, including the NCTA Distinguished Vanguard Award for Leadership in 1987.
In the early 1990's Aaron created the Dan Aaron Parkinson's Disease Foundation. Dan Aaron passed away in February of 2003, at the age of 77 from long-term effects of Parkinson's disease.