CEO, Liberty Global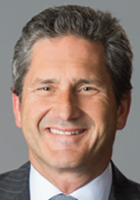 Mike Fries is Chief Executive Officer of Liberty Global, the largest international TV and broadband company in the world, currently providing close to 29 million customers in over 30 countries with broadband, entertainment, voice and mobile services. With more than 45,000 employees and $20 billion of revenue, Liberty Global is recognized as a global leader in entertainment, media and broadband.
Fries was a founding member of the management team that launched the company's international expansion over 25 years ago, and he has served in various strategic and operating capacities since that time. He was appointed president and chief executive officer in 2005 and is the vice chairman of Liberty Global's board of directors. He is also a member of its two-person executive committee along with the company's chairman, Dr. John C. Malone.
Fries is an engaged industry and community leader. He is a Telecom Governor and Steering Committee member of the World Economic Forum and a member of Young Presidents' Organization. He serves as a trustee or board member of many organizations, including CableLabs, The Cable Center, Grupo Televisa, Lionsgate, Alliance for Choice in Education and Teach for America, and he chairs the board for the Museum of Contemporary Art Denver and the Biennial of the Americas. Recognitions for his achievements include EY Entrepreneur of the Year in Media, Entertainment and Communications, Industry Leader of the Year by Digital TV Europe and induction into the Broadcasting & Cable Hall of Fame. In April, he will be inducted into the Cable Hall of Fame which recognizes pioneers and leaders in the cable industry. Mike holds a B.A. from Wesleyan University, where he serves on the Board of Trustees, and an M.B.A. from Columbia University.