Founder, Chairman and CEO, Oxygen Media, 2004 Cable Hall of Fame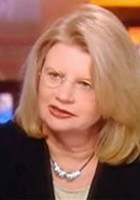 My personal goal was: 'How do we make Nickelodeon cool enough so my son will have the courage to confess where his mother works?
Geraldine B. Laybourne is the founder, Chairman and Chief Executive Officer of Oxygen Media. Oxygen, the only cable network owned and operated by women, is currently available in 56 million homes. The network was launched in 2000 to fill a void in the television landscape – creating a network targeted to younger women. The fastest growing independent network, Oxygen became profitable in 2004.
Oxygen is rewriting the rulebook for women's television, with the most original programming of all the women's networks. Programming includes Mo'Nique's Fat Chance, Oprah After the Show, Talk Sex with Sue Johanson and Girls Behaving Badly. Laybourne has led the company to be a strong advocate for women. Through programs like The Mentor's Walk, Oxygen's national program for bringing along the next generation, Oxygen is creating "The New Girls Network."
Prior to starting Oxygen, Laybourne spent 16 years at Nickelodeon – taking over management of the network in 1984. Under her leadership, Nickelodeon became the top-rated 24-hour cable network and won several notable awards including Emmy's, Peabodys, Cable Ace, and Parent's Choice awards.
From 1996-1998, Laybourne was president of Disney/ABC Cable Networks where she was responsible for overseeing current cable programming for the Walt Disney Company and its ABC subsidiary.
Laybourne has been singled out for her many contributions to the industry. She was ranked No. 1 among the 50 most influential women in the entertainment industry by The Hollywood Reporter in 1996 and named one of the 25 most influential people in America by Time magazine that same year. Her numerous awards include: the Annenberg Public Policy Center's award for Distinguished Lifetime Contribution to Children and Television, the New York Women in Communications Matrix Award® for Broadcasting, and the Creative Coalition's Spotlight Award. Her other honors include the Grand Tam Award® from CTAM, the Governor's Award® from the National Academy of Cable Programming, the American Women in Radio and Television Genii Award®, the Women in Cable Award®, and the Sara Lee Corporation's Frontrunner Award®. In 1995, she was inducted into the Broadcasting & Cable Hall of Fame. In October of 2004 she was inducted into The Cable Center Hall of Fame.
Laybourne sits on a number of boards and advisory committees, including the National Cable Television Association, The National Council for Families and Television, New York Women in Film & Television (Advisory Board), Cable Positive (Honorary Chair). In 1997 she was elected to the Board of Trustees of Vassar College. From 1990 to 1995 she served on the Board of Kinder Care Learning Centers. Laybourne recently became a member of the Board of Directors of Insight Communications.
Laybourne earned a Bachelor of Arts degree in Art History from Vassar College and a Master of Science degree in Elementary Education from the University of Pennsylvania. She and her husband Kit, a producer, author and animator, have two children and one grandchild.