Chairman & Chief Executive Officer, Chambers Comm, 2006 Cable Hall of Fame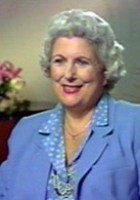 Chambers Communications Corp.'s founder and Chairman Carolyn S. Chambers passed away from cancer Monday morning, August 7, 2011. She was 79 years old.
In 1959, Carolyn Chambers was granted a license for KEZI-TV in Eugene, Oregon. Thus, the beginning of Liberty Communications, Inc. Liberty eventually became the 19th largest cable operator in the United States. In 1983 Liberty Communications, Inc. was sold to Tele-Communications Inc. As part of that transaction, Carolyn retained KEZI-TV and four cable systems in Washington and California, and formed Chambers Communications Corp. Chambers Communications grew to include the purchase of the cable system in Chico, California, as well as two additional television stations in Oregon. In 2000 Chambers sold all of her cable systems, but one, to AT&T. Today, Chambers Communications consists of three broadcast television stations operating as ABC affiliates; one cable system; a television, movie and video production company; and an ISP provider.
Carolyn was also the President of Chambers Construction, a Company started by her husband. Since his passing in 1986 Carolyn had overseen $539,015,193.00 in construction. Carolyn also owned Hinman Vineyards; Panther Creek Cellars; and McKenzie River Motors, a real-estate holding company.
In 2001 Carolyn purchased the screenplay for "Puerto Vallarta Squeeze," an action-thriller novel by Robert Waller (The Bridges of Madison County), and in 2002 she directed the filming of the movie in Puerto Vallarta, Mexico. Carolyn was then led to an opportunity with a Broadway play, "Six Dance Lessons in Six Weeks". The play opened in New York at the Belasco Theatre, as well as theatre companies in Chicago, Tel Aviv, Madrid, Berlin, Sydney, Tokyo and Hamburg. In the spring of 2004, Carolyn directed the filming of a second movie, "The Sisters", a screenplay by Richard Alfieri. This movie was filmed exclusively at the Sound Stages at Chambers Media Center and in the surrounding Eugene area. The film was released April of 2006 and has won 8 awards.
Carolyn has served on the National Cable Television Association; state cable organizations for Oregon, Washington, and California; the Pacific Northwest Cable Television Association; Cable TV Pioneers; C-SPAN Board of Directors, and she was a charter member of the national chapter of Women in Cable, and served as it's 3rd National President. She has served on the Board of Directors of two Fortune 500 Companies; the Federal Reserve Bank; and numerous other corporations. Among Carolyn's many awards are Eugene's First Citizen awarded in 1985, and Philanthropist of the Year in 1994.